VOD Oktober 2018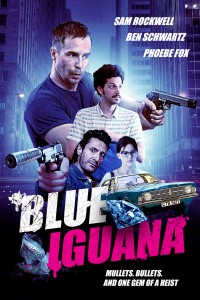 Komedie, Misdaad

Beschikbaar voor VOD: 4 oktober 2018

Regie: Hadi Hajaig

Cast: Sam Rockwell (Three Billboards Outside Ebbing, Missouri (Oscar!), Moon), Ben Schwartz (How to Be a Latin Lover), Phoebe Fox (Eye in the Sky), Peter Ferdinando (King Arthur: Legend of the Sword), Al Weaver (Love Is Thicker Than Water)
Twee ex-bajesklanten en boezemvrienden - Eddie (Sam Rockwell - Three Billboards Outside Ebbing, Missouri, Moon) en Paul (Ben Schwartz - Parks and Recreation, BoJack Horseman) – slijten hun dagen in voorwaardelijke vrijheid, zwoegend in een New Yorkse eettent. Hun leven zit in het slop tot Katherine (Phoebe Fox - Eye in the Sky), een Engelse advocate, hen voorstelt om in Londen een onschatbare edelsteen te gaan stelen, de Blue Iguana. Hun grootste zorg is echter niet hoe ze de heist van de eeuw zullen waarmaken, maar de concurrentie van een psychotische misdaadbaas (Peter Ferdinando - King Arthur: Legend of the Sword). De zaak wordt er niet minder ingewikkeld op wanneer ook Cupido zich met de zaak gaat bemoeien …
Misdaadkomedie Blue Iguana zet niet alleen de eeuwenoude culture clash tussen VS en UK weer heerlijk in de kijker, maar trekt ook volop de kaart van zwarte humor à la Lock, Stock and Two Smoking Barrels en Snatch. Ook een aanrader voor liefhebbers van films als The Italian Job en The Thomas Crown Affair.
Reviews
De humor is lekker absurdistisch en dat geeft deze film een frisse sfeer. Hajaig probeert echt iets nieuws te doen en dat siert haar. 4/5. Lees de hele review hier.
RogerEbert.com: Achieves a certain goofball charm. Rockwell and Fox, in particular, do wonderfully well.
Filmthreat.com: Sam Rockwell can do no wrong in the fast-paced action-caper genre and fans will love his performance. Ben Schwartz, on the other hand, holds his own portraying a decidedly different contrast to Rockwell. His performance is meant to be a little quirky as the hapless criminal. He's fun to watch and never annoying. It gets a recommendation for Rockwell and Schwartz's performance alone.
Carlosdev.wordpress.com: A solidly entertaining and often fun piece of work.
Thecriticalcritics.com: There are many hilarious aspects at work here, and there is enough creativity and technical know-how awash throughout the film to keep audiences pinned to their seats. Snappy dialogue and technical innovation, enough to garnering several small laughing fits.
Eyeforfilm.co.uk: The great British crime caper is alive and kicking in the 21st Century. An enjoyable evening's entertainment.Fanboynation.com: Fun to watch this cast as a crew of often inept criminals.
JBSpins.blogspot.com: A lot of fans will be very curious to see Rockwell in such a different context, so it is nice to be able to assure them that he does not disappoint. Hajaig wrote and helmed a breezy romp that actually skips over the Tarantino era, drawing inspiration from the uber-cool 1980s and the colorfully tacky 1970s. It is a nice balance of attitude and nostalgia that should garner enthusiastic word-of-mouth. Recommended for caper movie fans.
Punchdrunkcritics.com: The budding romance between Sam's character, Eddie, and Phoebe's character, Katherine, that due to their chemistry is fun to watch.
Thatmomentin.com: The cast is all up for the gig, with Schwartz working hard and a delightfully unhinged Peter Ferdinando as the mullet-wearing Deacon Bradshaw chewing up every scene he's in. Rockwell is of course great fun to watch, earning some good moments with Fox and being the best reason to give this a look.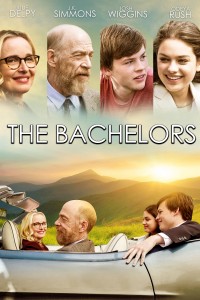 Drama, Komedie

Beschikbaar voor VOD: 11 oktober 2018

Regie: Kurt Voelker

Cast: J.K. Simmons (Spider-Man, Juno), Julie Delpy (2 Days In Paris, Before Midnight), Josh Wiggins (Max, Hellion, Mean Dreams), Odeya Rush (Goosebumps, The Giver)
Na de dood van zijn vrouw verruilt Bill Ponder (Oscarwinnaar J.K. Simmons – Whiplash, Juno) zijn kleinsteedse omgeving voor de grote stad. Samen met zijn 17-jarige zoon Wes wil hij met een schone lei herbeginnen. Met vallen en opstaan proberen ze hun ontwortelde leven weer op de rails te krijgen. Maar ondanks alle pijn, loert er voor allebei een nieuwe liefde om de hoek. Wes raakt in de ban van Lacy, een introverte, enigmatische meid, en Bill valt voor Carine (Julie Delpy - 2 Days In Paris, Before Midnight), een lerares Frans die haar eigen verleden meetorst. Relaties worden op de proef gesteld, ruzies en verzoeningen volgen elkaar in snel tempo op en gaandeweg ontdekken vader en zoon hun ware ik.
Ontroerende, maar vaak ook onweerstaanbaar grappige, indie over verlies en verwerking, liefde en verzoening, met schitterende vertolkingen van Simmons en Delpy, maar ook van jong talent Josh Wiggins (Max, Hellion, Mean Dreams) en Odeya Rush (Goosebumps, The Giver).
Reviews
NRC:Â  Een liefdevol verslag van menselijke veerkracht. Een portret van personages die allemaal op hun eigen manier pijn lijden. Maar daar eigenlijk veel eerlijker, kwetsbaarder en opener over zijn dan veel mensen in het echte leven. Dat zou de moed moeten zijn die deze film je wil inspreken.
Movie Machine:Â Ontroerende, maar vaak ook onweerstaanbaar grappige film over verlies en verwerking, liefde en verzoening, met schitterende vertolkingen van Simmons en Delpy, maar ook van jong talent Josh Wiggins.
The Guardian.com: Kurt Voelker's father-son tale boasts strong performances from JK Simmons and Julie Delpy. An affecting, jagged take on grief, depression and self-sabotage.
TheHollyWoodReporter.com: Voelker excels at guiding the cast through some complicated emotional territory and maintains strong arcs for each of the principal characters.
Latimes.com: Deftly balancing humor and grief, "The Bachelors" is fueled by wonderfully human performances and fully realized characters. We can also hope that The Bachelors serves another function as well: to further the careers of its two exceptional young performers: Wiggins and Rush.
Filminquiry.com: A thoughtful, timely gem that normalizes mental health treatment. The Bachelors is a scarcity of a film, one that transcends several genres to create an affecting orotundity through its singular voice.
Blu-ray.com: Voelker doesn't pour on the syrup, creating an approachable but deeply felt picture that's curious about behavior and therapy.
EyeForFilm.co.uk: The Bachelors is just a snapshot of a moment in life, but it's the sort of picture you'd want to keep.
Filmjournal.com: The story is simple, how a father and teenage son cope with the sudden loss of their wife and mother, and the acting is brilliant.
Awards
Heartland Film Festival 2017 - Audience Choice Award
San Diego International Film Festival 2017 - Festival Award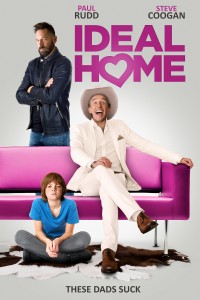 Komedie

Beschikbaar voor VOD: 18 oktober 2018

Regie: Andrew Fleming

Cast: Steve Coogan (The Trip to Spain, The Other Guys), Paul Rudd (Ant-Man, This is 40, Fun Mom Dinner), Jack Gore (Problem Child), Alison Pill (Milk, Hail Caesar!), Jake McDorman (American Sniper, Live Free or Die Hard)
Een succesvol kookprogramma en feestjes voor de elite, maar ook willetjes en grilletjes en wrijvinkjes... Hoe dan ook staat het luxeleventje van homokoppel Erasmus (Steve Coogan -  The Trip to Spain, The Other Guys) en Paul (Paul Rudd – Ant-Man, This is 40) in schril contrast met dat van Erasmus' vervreemde biologische zoon Dale (Jake McDorman) en diens tienjarige zoontje Bill (Jack Gore). Wanneer de politie Dale inrekent, weet het pientere kereltje te ontsnappen. Gewapend met het adres van zijn grootvader, bezorgt hij Erasmus en Paul de verrassing van hun leven. Hoewel Paul niet blaakt van enthousiasme, besluiten ze zich toch over Bill te ontfermen. Erasmus en zijn kleinzoon groeien naar elkaar toe, maar hun band drijft een wig tussen zijn relatie met Paul. Tot overmaat van ramp komt Dale op vrije voeten en eist hij het hoederecht over zijn zoontje weer op … het ideale thuis, wat was dat ook alweer?
Ideal Home is een heerlijke komedie, vaak grof in de mond, maar met het hart steeds op de juiste plaats. Topkomieken Coogan en Rudd schitteren als het ruziënde koppel dat dringend aan een verrijking en herijking van zijn waarden en liefde toe is.
Reviews
Empireonline.com (****!): Coogan and Rudd work their asses off to make Erasmus and Paul the most memorable screen gay men since The Birdcage. It's caustic, authentic, and very, very funny.
Variety.com: A cozy duet of tit-for-tat bitchery. 
Gay-Themed-Films.com: Fleming's film is a warm and fuzzy lighthearted comedy that successfully updates conventional depictions of queerness and family in a comedy film. A heartwarming closing montage of real-life LGBTIQ families also reminds us that it's time to update the universal notions of domesticity and re-define what makes a home 'ideal'.
Janksreviews.com: While somewhat unconventional, it takes no stretch of the imagination to see why there is so much love between Erasmus and Paul and how they can offer Bill the stability he desperately longs for. Families come in many shapes and forms, as is the case for this threesome. Ideal Home is a must-see film!
Popculture-y.com: Beware coming into this film looking for a romp of any kind. While there are jokes throughout the film, the best part of it are the moments of real human connection and real human folly between Steve Coogan, Paul Rudd and Jack Gore. Overall, a beautifully constructed film full of wonderful performances.
Screen-space.squarespace.com: Ideal Home represents the kind of quick-witted, meaningful writing that was once sought after by the big studios. Andrew Fleming's dialogue crackles and zings in the mouths of an appreciative cast, his scene structure and pacing skilful and refined.
Maketheswitch.com.au: Steve Coogan and Paul Rudd know how to deliver, whether it's scathing rebuttals or rip-snorting one-liners. A huge amount of fun, with some dark, real moments peppered throughout for a real kick. With just enough sweetness to balance the mixture out, this is a surprisingly endearing film.