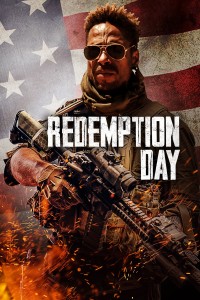 Release:
11 maart 2021

Regie:
Hicham Hajji


Cast:
Gary Dourdan (CSI, Alien Resurrection, Perfect Stranger)
Serinda Swan (Tron)
Andy Garcia (The Godfather, The Untouchables, Geostorm)
Ernie Hudson (Ghostbusters, L.A.'s Finest)


Genre:
Actie


Jaar: 2020





A Première TV Distribution Release
Collectie: 1 van 2
SYNOPSIS
Wanneer toparcheologe Kate Paxton in Marokko gegijzeld wordt door een terroristische groepering, weigert de lokale ambassadeur, onder druk van de olielobby, nog verder te onderhandelen. Haar man Brad, een gedecoreerd kapitein bij de US Marines, omzeilt de diplomatie en onderneemt zijn hachelijkste operatie ooit.
REVIEWS
Blu-ray.com: Dourdan is a fine tough guy.

Bulletproofaction.com: How many times can I call Gary Dourdan a badass in my review? Who knows, but he's definitely a badass.

Dansmoviereport.blogspot.com/: a blast of energy and angst, worthy of a re-watch, and to own, rating a strong 8 out of 10.

Worldfilmgeek.com: Redemption Day is not only Gary Dourdan's ticket to be a future action hero, but one who is truly human with a politically charged script by Hicham Hajji. A good way to start 2021!
DOWNLOADS
Je moet ingelogd zijn om deze informatie te bekijken.
.