VOD Augustus 2016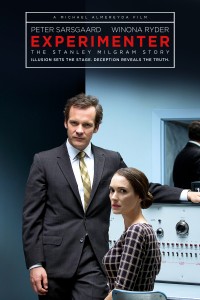 Drama

Beschikbaar voor VOD: 22 augustus 2016

Regie: Michael Almereyda

Cast: Peter Sarsgaard (Black Mass, The Killing, Blue Jasmine, Jarhead), Winona Ryder (Black Swan, Homefront, The Iceman, Edward Scissorhands), John Leguizamo (The Lincoln Lawyer, John Wick, Kick-Ass 2, Ride Along), Kellan Lutz (Twilight Saga, The Expendables 3, Immortals), Anthony Edwards (ER, Top Gun, Zodiac)
IN DE BIOSCOOP VANAF 31 MAART!
Zou ù gehoorzamen? Letterlijk en figuurlijk de knop omdraaien?
Yale University, 1961. Vanuit zijn eigen drang om de Holocaust te verwerken, bedenkt Dr. Stanley Milgram (Peter Sarsgaard, Black Mass, Blue Jasmine) een controversieel psychologisch experiment waarbij mensen geloven dat ze elektroschokken toedienen aan een proefpersoon in een andere kamer. Alleen zijn zij zélf de proefpersoon en gaat het niet om de werking van andermans geheugen, maar om hun eigen gehoorzaamheid, geweten en vrije wil.
Het resultaat van de experimenten is schokkend: 65 procent van Dr. Milgrams proefpersonen dienen hun ondervraagde een potentieel dodelijke dosis toe, omdat een gezagsdrager in een labojas hen daar beleefd om verzoekt. Maar zijn onderzoek keert zich tegen hem en in de media en een tv-film met William Shatner wordt hij afgeschilderd als een manipulatief monster. In 1974 slaat hij terug met een nieuw boek, Obedience to Authority.
Experimenter is een fascinerende gedragsstudie, gebaseerd op het leven en onderzoek van Dr. Stanley Milgram. Winona Ryder (Black Swan, Edward Scissorhands) speelt de vrouw die hem door dik en dun steunt.
Meer informatie over Dr. Stanley Milgram vind je hier: https://en.wikipedia.org/wiki/Stanley_Milgram
Reviews
De Volkskrant (vier sterren): Het is knap dat de film ondanks de opzettelijke kunstgrepen evenwichtig blijft en nooit in pretenties ontspoort. Prikkelend eerbetoon. Milgram-biopic is ongewoon en intrigerend. Lees het hier.
Trouw (vier sterren): Experimenter is het fascinerende portret van Stanley Milgram, sterk gespeeld door Peter Sarsgaard.
Vier sterren in de NRC: Originele biopic. Lees de review hier.
Biosagenda: Intelligente en speelse film, vier sterren! Lees de hele review hier.
De Filmkrant heeft Michael Almereyda geinterviewd, lees het hier. En geeft de film maar liefst 4.5 sterren!
De Filmkrant: Films over wetenschappers drukken de wetenschap meestal naar de zijlijn, en zoeken het drama in het persoonlijke. Michael Almereyda bewijst met Experimenter, een eigenzinnige biografie van socioloog Stanley Milgram, hoe zonde dat is.
Lees de hele recensie hier.
Filmkijker.com: Sarsgaard is goed in zijn rol, maar ook Winona Ryder die zijn vrouw Sasha speelt is een plezier om naar te kijken. De manier waarop Experimenter het verhaal uit de doeken doet is opvallend en dan met name de vorm waarin. Milgram praat regelmatig direct tegen het publiek en achtergronden zijn soms simpele zwart wit foto's in plaats van echte sets, waardoor de film een kunstmatige uitstraling krijgt die goed bij het onderwerp past. Als kijker ben je daardoor meer betrokken en vraag je jezelf ook af wat jij bij zo'n experiment zou doen. Ben je sterk genoeg om nee te zeggen of ga je gehoorzaam verder? Welke factoren spelen bij die keuze een rol? Verlies je jezelf in zo'n situatie of kan je het relativeren? Experimenter weet een belangrijk onderzoek op fascinerende wijze tot leven te brengen. Lees de hele recensie hier.
Variety.com: Experimenter offers a heady brew of theories about the essence of human nature, and a Peter Sarsgaard performance that catches Milgram in all his seductive, megalomaniacal brilliance.
TheHollywoodReporter.com: Technically puckish where appropriate but grounded by strong performances from Peter Sarsgaard and Winona Ryder, the film is not awards bait but makes some Big Thinker biographies that are look staid. It seems certain to be the deliberately fringe-dwelling auteur's most commercially successful film, and may be his most aesthetically satisfying one as well.
New York Times: Among the most original selections (Sundance) this year are Michael Almereyda's "Experimenter," a conceptually exciting, intellectually searching portrait of the social psychologist Stanley Milgram (a superb Peter Sarsgaard), whose famous 1960s obedience experiments. Mr. Sarsgaard, occasionally addressing the camera and sometimes accompanied by an elephant that materializes in the room, delivers a forceful yet intimate performance that expresses his character's sincerity and the sinister undertow of his methods. Sundance could use more movies, like "Experimenter," that are adventurous in form and thought, not just in subject.
New York Magazine: Experimenter is uncannily beautiful. Milgram talks to us, shows us things. He puts his work in historical context. He expounds on the role of obedience in turning individuals into instruments of the state — as in Nazi Germany. The word reflective suggests a slowdown or cessation of action proper, but Experimenter is busily, thrillingly reflective. Its artificiality makes it seem even more alive, more in the present tense.
TheGuardian.com: Sarsgaard stars in this smart and unsettling exploration of Stanley Milgram's questionable experiment testing people's allegiance to malevolent authority, and potentially exposing the dark heart of mankind.
Villagevoice.com: The movie is itself a rat-maze of one-sided mirrors, windows upon windows, anonymous hallways, compartmentalized instances of watching, being watched, seeing and not-seeing.
Screendaily.com: Almereyda has created an experiment of his own: a kind of cinematic Rorschach test, prodding viewers to consider what they would do if sitting in the same seat as Milgram's subjects. Ultimately, Almereyda's smartly written script attempts to make up for its lack of traditional dramatic elements with continuous questions about Milgram's - and everyone's - ability to make a choice in society. These queries, about choice, will and morality, form the backbone of Experimenter, a film that, like the best of science, asks questions it can't always answer.
Sean Axmaker, Parallax View: The committed work of Anthony Edwards, John Leguizamo, Anton Yelchin, Taryn Manning and others as the test subjects provides some of the most gripping and discomforting profiles in human anxiety and willing resignation to authority. And the contrast with the odd, almost forced joviality of Milgram's team (Jim Gaffigan, Edoardo Ballerini, Winona Ryder) makes it all the more lacerating. And that doesn't even begin to address the Twilight Zone debate over test morality with Dennis Haysbert and Kellan Lutz as alternate universe versions of Ossie Davis and William Shatner. I put this ensemble up against all that have been awarded by critics groups or nominated by the Screen Actors Guild.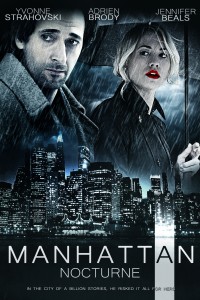 Misdaad, Thriller

Beschikbaar voor VOD: 25 augustus 2016

Regie: Brian DeCubellis

Cast: Adrien Brody (Midnight in Paris, The Pianist, The Darjeeling Limited), Yvonne Strahovski (Dexter, Killer Elite, The Handmaid's Tale), Jennifer Beals (Flashdance, The Book of Eli, Runaway Jury), Campbell Scott (The Amazing Spider-Man 1 & 2, The Exorcism of Emily Rose)
Porter Wren (Oscarwinnaar Adrien Brody) behoort tot een uitstervend ras. Als schandaalcolumnist grossiert hij in sappige moordverhalen, drama's en "waargebeurde" feiten. Aan het thuisfront speelt hij de toegewijde echtgenoot van Lisa (Jennifer Beals, The L Word) met wie hij twee jonge kinderen heeft. Maar wanneer de verleidelijke Caroline Crowley (Yvonne Strahovski, Dexter) zijn libido en nieuwsgierigheid prikkelt met de onopgeloste, bizarre moord op haar man, een beroemd cineast, raakt hij al snel verstrikt in een web van leugens en verraad. Wat begon als een opwindende, verboden affaire, ontaardt in een gruwelijke nachtmerrie waarbij hij alles dreigt te verliezen: zijn baan, zijn gezin en zelfs zijn leven...
Deze intrigerende filmbewerking van Colin Harrisons gelijknamige boekentip van de New York Times is een eigentijds film noirpareltje waarin seksuele obsessie en chantage de boventoon voeren.
Reviews
Nytimes.com: Adrien Brody is an actor who knows what he's good at. And in "Manhattan Night," a classic film noir set in contemporary New York, his character, Porter Wren, is a scuttling tabloid columnist ensnared in an elaborate story of deception, blackmail, murder and sexual duplicity. In its complexity and zest for evil, the plot rivals that of "Chinatown."
Hollywoodreporter.com: A largely enjoyable neo-noir.
Theguardian.com: Adrien Brody plays a crime columnist mixed up with a femme fatale in a steamy drama that manages to entertain.
AVClub.com: The most compelling character is an eccentric, extravagantly acclaimed film director, Simon Crowley (Campbell Scott), who is seen only in flashbacks tied to his habit of videotaping, sometimes surreptitiously, his encounters with strangers and loved ones alike. There's something disturbing and recognizably contemporary about Simon's DV fetish, and Scott, always a fascinating actor, has the stare of a true voyeur. In its best scenes, the film plays with the tension between its antagonist's insatiable need to transform real life into melodrama and its own relentless narrative gamesmanship. The script plays keep-away with the audience, and the mystery being withheld is so truly, luridly tantalizing that it's almost disappointing that the filmmakers give it up at all.
Screenspotlight.com: Brody has teamed with director/screenwriter Brian DeCubellis to make a movie that is spellbinding from the first frame and well-beyond its last. Manhattan Night may be labeled as film noire but to assign only one descriptive characterization to this movie is a misstep. Only a flourishing crowd of adjectives and adverbs will draw out the near perfection that is Manhattan Night. Movie lovers, feast your eyes on the macabre dance that is Manhattan Night and quench your appetites for a movie whose nose is always to the grindstone. Let Adrien Brody take you on a journey into the unknown.
Cutprint.film: Brody is one of the more interesting actors working today, and he gives the part his all, bringing an appropriate weariness and foolishness to his part as we watch him get suckered into one problem after another.
Azcentral.com: Modern-day film noir is an engrossing showcase for Brody and newbie writer-director Brian DeCubellis. it pulls you in its web, which gets increasingly dense and tangled. Brody's journo is an engaging presence, and the actor knows how to make the wisecracking dialogue snap.