VOD Juni 2021
Komedie

Beschikbaar voor VOD: 3 juni 2021

Regie: Karen Maine

Cast: Natalia Dyer (Stranger Things, Velvet Buzzsaw), Timothy Simons (Veep, Inherent Vice), Wolfgang Novogratz (Assassination Nation), Alisha Boe (13 Reasons Why)
De Amerikaanse Midwest, begin 2000. Wanneer katholieke tiener Alice (Natalia Dyer - Stranger Things) toevallig de geneugten van de "zelfbediening" ontdekt, schrijft ze zich in voor een retraite die haar van die duivelse ziekte af moet helpen. Maar ze valt als een blok voor de spetter van het kamp en ontdekt dat de heiligste boontjes vaak de hypocrietste zijn.
Reviews
HollywoodReporter.com: A fun and entertaining ride that unfolds at just the right speed.
RogerEbert.com: A sweet sincere film.
Blu-ray.com: Dyer, who's excellent in the lead role, nailing beats of shock and curiosity with complete command.
Variety.com: the gentle shocks of recognition afforded by this engaging indie comedy likely will be all the more enjoyable.
Chicago.suntimes.com: For all its sharp barbs at Catholic school hypocrisy and its frank depictions of masturbation and teenage hook-ups, Yes, God, Yes somehow retains a breezy and upbeat and even sweet disposition, thanks to the light touch of writer-director Karen Maine and an absolutely winning performance by "Stranger Things" star Natalia Dyer.
Screen Rant: Yes, God, Yes is an achingly honest and entertaining-as-hell journey through one teen's burgeoning sexuality.
The Film Stage: The film avoids over the top tropes and shock value with refreshing sincerity. This is the kind of sex-positive coming of age comedy that smart, curious teens truly deserve.
Indiewire.com: Maine's witty script is filled with more than enough sequences primed to get laughs out of any audience (with Dyer turning in a charming performance that never goes too broad).
Flickeringmyth.com: Natalia Dyer is outstanding.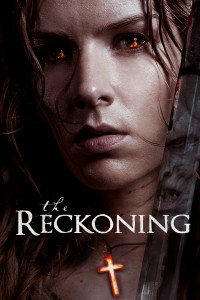 Horror

Beschikbaar voor VOD: 10 juni 2021

Regie: Neil Marshall

Cast: Charlotte Kirk (Vice, Ocean's Eight), Joe Anderson (Hercules, The Grey), Steven Waddington (The Imitation Game), Sean Pertwee (Gotham)
Engeland, 1665. De pest waart door het land, de angst regeert en de brandstapels laaien hoog op. Omdat ze hem afwijst, beticht een landeigenaar een weduwe van hekserij. Een legendarische inquisiteur is vastbesloten om de jonge moeder tot bekentenissen te dwingen. Een ongelijke krachtmeting, tot de duivel zich in de strijd mengt.
Reviews
Badfeelingmag.com: gorehounds will love some of the kills on display, and Marshall provides some effective jump scares.
Bloody-disgusting.com: Looks good and is shot well, particularly for audiences with an affinity for torture.
Britflicks.com: A proper rip, roaring yarn about witchfinder era Britain that is best when the fighting is in full flow or skulls are being squashed under cartwheels.
Cgmbacklot.com: Great performances across the board.
Entertainment-focus.com: A return to form for acclaimed film-maker Neil Marshall. It's a solid pot-boiler that's in no rush to reveal its hand early so you do have to be patient as the plot slowly unravels.
Fathersonholygore.com: The story's a fresh one that starts off running and never slows down until the credits roll. Easily one of the best witch hunt films there's been.
Filmpulse.net: A compelling one that accurately shows the horrific results of rumor and mass panic.
Filmschoolrejects.com: An attractive tale about ugly times and deeds.
Horrorcultfilms.co.uk: Looks and sounds great.
Ihorror.com: Solid performances and a thoughtfully constructed, historically relevant story that rings a bit too true at the present moment.
Moviemovesme.com: An entertaining and terrifying journey.
Skonmovies.com: A well-made film.
Johnnyalucard.com: An old-fashioned period melodrama (when was the last time you saw a film with a wicked squire), torture-fetish grand guignol (authentic and inauthentic witch-finding devices alike are used on innocents), and hallucinatory horror movie.
Tiltmagazine.net: It's fun. There's blood and fire, a ludicrous explosion, and all the mayhem you'd expect from a Neil Marshall flick.