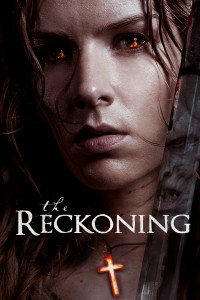 Release:
10 juni 2021

Regie:
Neil Marshall (The Descent, Dog Soldiers)


Cast:
Charlotte Kirk (Vice, Ocean's Eight)
Joe Anderson (Hercules, The Grey)
Steven Waddington (The Imitation Game)
Sean Pertwee (Gotham)


Genre:
Horror


Jaar: 2020





A Première TV Distribution Release
Collectie: 1 van 2
SYNOPSIS
Engeland, 1665. De pest waart door het land, de angst regeert en de brandstapels laaien hoog op. Omdat ze hem afwijst, beticht een landeigenaar een weduwe van hekserij. Een legendarische inquisiteur is vastbesloten om de jonge moeder tot bekentenissen te dwingen. Een ongelijke krachtmeting, tot de duivel zich in de strijd mengt.
REVIEWS
Badfeelingmag.com: gorehounds will love some of the kills on display, and Marshall provides some effective jump scares.
Bloody-disgusting.com: Looks good and is shot well, particularly for audiences with an affinity for torture.
Britflicks.com: A proper rip, roaring yarn about witchfinder era Britain that is best when the fighting is in full flow or skulls are being squashed under cartwheels.
Cgmbacklot.com: Great performances across the board.
Entertainment-focus.com: A return to form for acclaimed film-maker Neil Marshall. It's a solid pot-boiler that's in no rush to reveal its hand early so you do have to be patient as the plot slowly unravels.
Fathersonholygore.com: The story's a fresh one that starts off running and never slows down until the credits roll. Easily one of the best witch hunt films there's been.
Filmpulse.net: A compelling one that accurately shows the horrific results of rumor and mass panic.
Filmschoolrejects.com: An attractive tale about ugly times and deeds.
Horrorcultfilms.co.uk: Looks and sounds great.
Ihorror.com: Solid performances and a thoughtfully constructed, historically relevant story that rings a bit too true at the present moment.
Moviemovesme.com: An entertaining and terrifying journey.
Skonmovies.com: A well-made film.
Johnnyalucard.com: An old-fashioned period melodrama (when was the last time you saw a film with a wicked squire), torture-fetish grand guignol (authentic and inauthentic witch-finding devices alike are used on innocents), and hallucinatory horror movie.
Tiltmagazine.net: It's fun. There's blood and fire, a ludicrous explosion, and all the mayhem you'd expect from a Neil Marshall flick.
DOWNLOADS
Je moet ingelogd zijn om deze informatie te bekijken.
.