VOD Februari 2018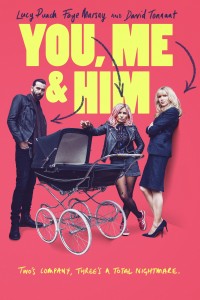 Romantische komedie

Beschikbaar voor VOD: 1 februari 2018

Regie: Daisy Aitkens

Cast: David Tennant (Broadchurch, Doctor Who, Harry Potter And The Goblet Of Fire), Lucy Punch (Into the Woods, Bad Teacher, Dinner for Schmucks, A Good Old Fashioned Orgy), Faye Marsay (Game of Thrones, Pride), Simon Bird (The Inbetweeners, Friday Night Dinner), Gemma Jones (Bridget Jones Trilogy, Veep)
Olivia (Lucy Punch - Bad Teacher, A Good Old Fashioned Orgy) is een ambitieuze advocate wier biologische klok plots onhoudbaar begint te tikken. Alex (Faye Marsay - Game of Thrones, Pride) is haar wietrokende, loltrappende liefje, die het allemaal best goed vindt zoals het is. No cocks, no clocks. Tot het lesbische koppeltje, al dan niet door toedoen van hun irritante buur (David Tennant - Broadchurch, Doctor Who), dubbelop zwanger blijkt, en alles waar ze ooit in geloofden of van droomden, helemaal op de helling komt te staan. Lez have a baby!!!
YOU, ME AND HIM is een spitsvondige en geestige romantische komedie die zich afspeelt in kleinburgerlijk Engeland en, tussen de tranen – van het lachen én ontroering – door, de controverse niet schuwt. David Tennant steelt de show als oversekste, hilarische hipster. Een total must voor liefhebbers van de betere Britse comedy.
Reviews
Cinemagazine.nl: Wat overigens ook heel verrassend is, is dat 'You, Me and Him' ook nog weet te raken op verschillende momenten. Dit valt wederom te wijten aan sterk spel, vooral van Faye Marsay die haar stoere en vrije karakter ook een zachte en emotionele kant weet te geven. Hele review hier.
cgiii.com: You, Me & Him jogs on at a sprightly pace with laughs aplenty and will, undoubtedly, warm the cockles of your heart. David Tennant...do more comedy! Daisy Aitkens...write and direct more films!
eyeforfilm.com.uk: an honest portrait of the complexity of real life relationships as many people experience them – something mainstream cinema needs more of.
Midlandmovies.com: The film is overall lightweight but takes a meaningful look at the serious issues of LGBT love (not a "large sandwich" as the film jokes) and the multifaceted intricacies of modern relationships. With three wonderful showings from Punch, Marsay and Tennant, the film is an enjoyable romp with plenty of laughs without forgetting the affectionate support needed for mothers, fathers and partners.
TheHollywoodNews.xom: You, Me and Him is quite the delight; it's hilarious and charmingly executed with enough heart and passion behind its story to keep you smiling and keep you entertained for its runtime.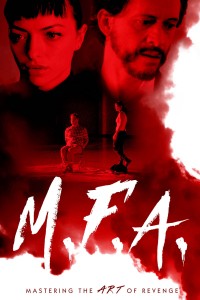 Thriller

Beschikbaar voor VOD: 8 februari 2018

Regie: Natalia Leite

Cast: Francesca Eastwood (Heroes Reborn, Final Girl), Clifton Collins Jr. (Pacific Rim, Star Trek), Leah McKendrick (Bad Moms), Peter Vack (Mozart in the Jungle)
Kunststudente Noelle (Francesca Eastwood - Heroes Reborn, Final Girl) worstelt om haar eigen stem te vinden. Wanneer een date met een medestudent uitdraait op een verkrachting, wil de getraumatiseerde jonge vrouw de dader achteraf met zijn gedrag confronteren. Maar hun woordenwisseling ontaardt in een handgemeen met dodelijke afloop. Een ongelukkige val. Geen getuigen. Noelle probeert de draad van haar leventje weer op te nemen, maar ontdekt intussen dat ze niet het enige stilzwijgende slachtoffer is op de campus. Ze besluit het recht in eigen handen te nemen en ontpopt zich tot een meedogenloze wraakengel. De sluizen van de inspiratie gaan plots helemaal open…
Het is van Jodie Fosters controversiële The Accused geleden dat een thriller nog op zo'n zinderende en gedurfde manier een heikel thema als verkrachting durfde aanboren. Regisseur Natalia Leite putte dan ook uit haar eigen ervaringen voor deze prangende film die tot nadenken aanzet zonder te betuttelen.
Reviews
Variety.com: Francesca Eastwood delivers a tough, eye-opening performance in the lead role, and her character's vengeance packs a cathartic punch.
LaTimes.com: Eastwood is absolutely riveting, inhabiting a true violent vigilante worth rooting for.
ScreenAnarchy.com: A hard-hitting thriller. Nightmares are made of this.
Hollywoodreporter.com: Lethal vengeance is a potent muse in M.F.A.
ChicagoReader.com: In the lead role, Francesca Eastwood takes after her father, Clint: she's magnetic and convincing as a vigilante.
Thehollywoodnews.com: Eastwood shines like the star she is destined to be.
Nofilm.school.com: Natalie Leite's rape-revenge thriller stars a riveting Francesca Eastwood seeking vigilante justice. 
Culturecrypt.com: On its surface, "M.F.A." satiates appetites for slasher suspense with gruesome visual gusto to match psychological intensity percolating underneath. Though suggestive insight into cause and effect regarding all radiating crimes is where the movie really makes it mark, haunting the head with provocative questions while hitting hard in the heart with righteous rage.
Bloody-disgusting.com: M.F.A. is intensely engaging, thought-provoking, and also mesmerizing. Aided by Eastwood's dynamic performance (her emotional range is uncanny), M.F.A is an empowering film that's just as enlightening. 
Assholeswqatchingmovies.com: Eastwood is INTENSE in M.F.A. Like, maybe more intense than her father has ever been.
Cinemaslaher.com: MFA is a heartbreaking gut-punch that takes the subgenre and elevates it to another level. This one promises to be polarizing due to its unique take on such a harsh subject matter, but it's a damn fine film.
Dailydead.com: Anchored by a career-making performance by Eastwood, M.F.A. shook me to my core in a way that I wasn't expecting.
TheHollywoodOutsider.com: Not since The Accused has a movie perfectly captured a topic as toxic as M.F.A. does here, and no film at SXSW this year moved me as passionately to push a conversation forward as much as this one. Anchored by a genre-defying performance from Francesca Eastwood, M.F.A. deserves to land at the top of your must-see list. 
Weliveentertainmant.com: Franchesca Eastwood's performance is utterly spectacular. She carries the film on her shoulders and nails every scene she's in, while also having this odd likeability to her that isn't typical for modern day protagonists. Even when Noelle goes into full blown violent vigilante mode, Eastwood never loses sight of who the character of Noelle is. Her quietness, minor quips of humor and all around intentions are expertly balanced by Eastwood, making herself instantly the next big thing in the industry.