VOD November 2018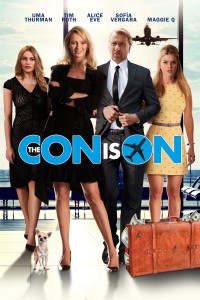 Komedie, Misdaad

Beschikbaar voor VOD: 1 november 2018

Regie: James Oakley

Cast: Uma Thurman (Kill Bill, Pulp Fiction, Percy Jackson & the Olympians), Tim Roth (Reservoir Dogs, The Hateful Eight), Stephen Fry (Gosford Park, V for Vendetta, A Bit of Fry and Laurie), Sofia Vergara (Modern Family, Chef), Maggie Q (Divergent, Nikita, Mission Impossible III ), Alice Eve (Star Trek Into Darkness, Men in Black 3), Parker Posey (For Your Consideration, Superman Returns, The Oh in Ohio)
Harriet (Uma Thurman - Kill Bill, Pulp Fiction) en Peter (Tim Roth – Reservoir Dogs, The Hateful Eight), een Brits oplichterskoppel, zijn ten dode opgeschreven als ze hun gokschulden bij de meedogenloze gangster Irina (Maggie Q - Divergent, Nikita, Mission Impossible III) niet kunnen inlossen. Hun overlevingsmissie voert naar Hollywood, waar ze een juweel van onschatbare waarde willen ontfutselen aan Peters geschifte ex Jackie (Alice Eve - Star Trek Into Darkness, Men in Black 3). Zeggen dat dit niet van een leien dakje loopt, is een understatement. Er is zelfs geen leien dakje...
Liegen, stelen en bedriegen - onze emoties bespelen en de illusie in stand houden, zeg maar - is nu éénmaal waar acteurs crimineel goed in zijn en de sterrencast uit deze lichtvoetige misdaadkomedie trekt alle registers open! U herkent ook nog Parker Posey (Superman Returns), Sofia Vergara (Modern Family) en Stephen Fry (Gosford Park, V for Vendetta).
Reviews
LATimes.com: A stylish caper with enjoyably wry, martini-soaked dialogue and a terrific comedic turn by Uma Thurman as a glamorous British scam artist.
RogerEbert.com: Excellent cast. It's great to see Thurman in a movie star part again.
Flickeringmyth.com: While the characters are all over-the-top caper archetypes, the cast seems to be having the time of their lives. Tim Roth is trying his hardest to beat Gary Oldman's nicotine poisoning in Darkest Hour by drinking ALL the martinis and straight vodkas in the world, to the point where it seems of if he doesn't have a drink in his hand. He also shatters, drops, and otherwise breaks so many glasses I would not be surprised to hear their alcohol and glassware budget was comparable to the cocaine budget in Blues Brothers. Stephen Fry is a delight as usual, and he seems to be amused by all the other characters to really give a damn about the story.
Reeltalkreviews.com: Thurman (Kill Bill) oozes so much glamour playing her morality-challenged character that she holds our interest in all of her scenes. Plus, Maggie Q (Divergent) makes a very relentless villain.
Thatmomentin.com: Good work from Thurman and Roth, who both do well as curiously likable terrible people.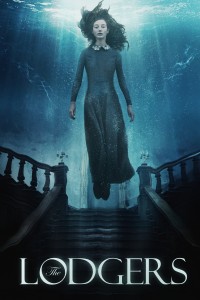 Horror

Beschikbaar voor VOD: 8 november 2018

Regie: Brian O'Malley

Cast: Bill Milner (Dunkirk, X: First Class, Locke), Charlotte Vega (American Assassin, Another Me), David Bradley (Harry Potter, Game of Thrones), Eugene Simon (Game of Thrones, Ben Hur)
De tweeling Rachel (Charlotte Vega - Another Me) en Edward (Bill Milner - X: First Class, Locke) deelt een gruwelijk familiegeheim. Elke nacht valt hun afgelegen landgoed ten prooi aan de sinistere Lodgers, die hen drie regels opleggen: voor middernacht in bed liggen, geen buitenstaanders binnenlaten, elkaar nooit alleen laten. Wie probeert te ontsnappen, zet het leven van de andere op het spel. Dan keert de getroebleerde oorlogsveteraan Sean (Eugene Simon – Game of Thrones) naar het nabijgelegen dorp terug. Hij voelt zich aangetrokken tot de mysterieuze Rachel, die de regels van de Lodgers aan haar laars begint te lappen. Ze wordt meegezogen in een dodelijke confrontatie met haar broer… en de vloek die van oudsher op hen rust.
Regisseur Brian O'Malley (Let Us Prey) verfijnt zijn beklijvende gothic horror-stijl door het beste uit de klassieke en hedendaagse griezelfilm met elkaar te verzoenen: sfeervolle fotografie in prachtige decors, psychologische terreur en ijzingwekkende plotwendingen. En de karakterkop van veteraan David Bradley (Harry Potter, Game of Thrones…) past perfect in het plaatje…
Reviews
IMAGINE Film Festival: The Lodgers is een beeldschone aanvulling op de canon van gothic horrorfilms. 
Variety.com: Enchantingly gloomy and lustrous, this lushly staged costume chiller is a fragrant beauty indeed.
Cineuropa.org: O'Malley creates a lurid atmosphere by using cinematographer Richard Kendrick's gentle camera movements and Tony Kearns' measured editing to maximum effect, and even elevating the elements of the production design, such as the house and the menacing water, to the level of lively characters. The old, beautiful and broken mansion, with all its creaking noises and its huge wooden staircase, is allegedly a real-life haunted house, while the water the ghostly creatures live in, emerging from down below and rushing up to the ceiling in drops, looks impressive in CGI, making The Lodgers a must-see for fans of gothic horror cinema.
Comingsoon.net: here hasn't been a more effective, disturbing and sensorially pleasing film of this kind since Alejandro Amenabar's The Others and, like that masterpiece, O'Malley's artful, lurid and meticulously orchestrated exercise in atmosphere, pretty misery and dread seeps deep under your skin. And it stays there. For keeps.
Digitaljournal.com: 'The Lodgers' is a chilling, gothic tale of co-dependent twins imprisoned by a family curse.
Dreadcentral.com: Delicately crafted, The Lodgers is a richly woven tapestry of classically inspired gothic horror. Smart, scary, and undeniably beautiful, it will no doubt be considered one of the pinnacles of its genre.
Thefilmstage.com: So we let the atmospheric mood draw us into the horror as mystery makes way towards scares. The whole looks gorgeous from the macabre carcasses of long-dead pets to the image of two bodies silently floating above the lake as O'Malley holds our attention with the rising malevolence executed by Milner and inspiring desire to take hold of her destiny imbued by Vega. That which frightens them is left shrouded in secrecy beyond the connection to their blood and the result their disobedience secures.
Blu-ray.com: The Lodgers presents some strong visual filmmaking from O'Malley, who has a distinct battle plan to present the enigmatic threat, creating some striking imagery along the way (with cinematographer Richard Kendrick) that increases eeriness, delivering satisfying payoff for troubling events. Turpin contributes some mental illness to lubricate the terror, with the twins adding to a long line of family rituals that contribute to their hellish existence. Mystery is present, along with Hammer-style gothic environments and numerous threats to the safety of the lead characters, and once The Lodgers finally gets going, there's much to appreciate dramatically and cinematically. 
Eyeforfilm.co.uk:Â One of the better Gothic films of recent years, The Lodgers blends beauty and creepiness sublimely. It will delight genre fans and deliver pleasing chills to others.
Awards
Molins de Rei Horror Film Festival 2017 - Jury Prize Best Film
FANCINE Festival de Cine Fantastico de la Universidad de Malaga 2017Â  -Â Best Actress
FANCINE Festival de Cine Fantastico de la Universidad de Malaga 2017Â  - Best Special Effects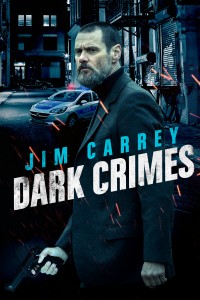 Thriller

Beschikbaar voor VOD: 15 november 2018

Regie: Alexandros Avranas

Cast: Jim Carrey (The Truman Show, Ace Venture, Bruce Almighty), Marton Csokas (Sin City: A Dame to Kill For, The Equalizer, The Amazing Spider-Man 2), Charlotte Gainsbourg (Nymphomaniac, Melancholia, Antichrist)
Wanneer misdaadauteur Kozlow (Marton Csokas: Noah, The Lord of the Rings) in zijn boek intieme details over een onopgeloste moordzaak de wereld instuurt, ziet de in ongenade gevallen rechercheur Tadek (Jim Carrey: Eternal Sunshine of the Spotless Mind, Bruce Almighty) een ultieme kans om zijn carrière alsnog positief af te sluiten. Maar zijn doelwit blijkt een zelfverzekerd, nihilistisch provocateur die – al dan niet schuldig – met duivels genoegen de strijd met hem aanbindt. Hun kat-en-muisspelletje ontaardt in een sinistere hellevaart waarbij ook Kozlows vriendin Kasia (Charlotte Gainsbourg: Nymphomaniac, Melancholia, Antichrist) een dubbelzinnige rol speelt.
Jim Carrey, die met Man on the Moon en The Truman Show al bewees dat hij meer in zijn mars heeft dan gekke bekken trekken, zet in deze bloedstollende thriller opnieuw een doorleefde vertolking neer. Prachtig in beeld gebracht en op een waargebeurd verhaal gebaseerd misdaaddrama van de mensen achter The Revenant en Black Mass.
Reviews
San Francisco Chronicle: The cast is game, the production design is impressive and a few surprises await.
Backtothemovies.com: A fusion of Hostel and The Snowman but does an admirable job emulating the taut narrative and pristine aesthetic of Tinker, Tailor, Soldier, Spy. As the transgressive and perverse story unfolds, the shadow of the ax grows larger as the impending doom looms larger. It is a film that is for a select group of cinephiles; those who champion the works of Lars von Trier and Abel Ferrara, those who fear not where their minds may trek while watching the film. Jim Carrey gives the performance of his career.
DVDFever.co.uk: Dark Crimes shows that as much as Jim Carrey can be a great comedian, he excels in drama. Dark Crimes contains fantastic and stunning cinematography.
Crypticrock.com: Dark Crimes was incredibly impressive on so many levels, and undeniably immersing. The plot was interesting enough, but it was actually the performances and cinematography that really tipped the scales in favor of this dark and gritty Film Noir.
Screendaily.com: Carrey throws himself into the role with a grim-faced dedication.
Hollywoodreporter.com: Spicy real-life ingredients and a terrific international cast.
Los Angeles Times: Carrey's quietly exacting, uncharacteristic performance hints at some promising new career directions in the same manner Robin Williams successfully tapped a darker side with "One Hour Photo."
Consequenceofsound.net: A bizarre, fascinating turn for Carrey.
Villagevoice.com: A startlingly poignant and genuinely surprising bit of cinematic artistry.