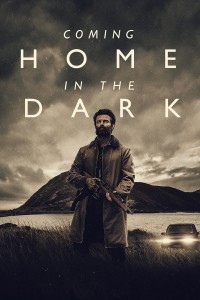 Release:
12 mei 2022

Director:
James Ashcroft


Cast:
Erik Thomson
Miriama McDowell
Daniel Gillies (The Originals)
Matthias Luafutu


Genre:
Thriller


Year: 2021





A Première TV Distribution Release
Collectie: 1 van 3
SYNOPSIS
A family's idyllic outing descends into terror when high school teacher Alan 'Hoaggie' Hoaganraad, his wife Jill and stepsons Maika and Jordon go exploring an isolated coastline. But an unexpected meeting with a pair of murderous drifters thrusts the family into a nightmare road trip where they find themselves captured by the enigmatic psychopath Mandrake and his hulking man-child accomplice Tubs. At first the family's terror seems to be born of a random encounter with two sociopaths who seem intent on god only knows what. But as the night drags on Hoaggie and Jill realize that this nightmare has been set in motion 20 years earlier; and as they approach their mysterious final destination Mandrake reveals the horrible secret driving his actions leaving Hoaggie to face a questionable past before the sun rises.
REVIEWS
Modernmyths.nl: Sommige films blijven je lang bij. Een knoop in je maag en een brok in je keel ... IJzersterk acteerwerk.
411mania.com: A brutal and uncompromising horror-thriller that never feels mindless or pointlessly cruel. Anchored by a marvelously villainous turn by Daniel Gillies and an intensity that never lets you go, this is a gorgeous and well-crafted piece of abduction horror that is well worth seeing.
Bloody-disgusting.com: A grim, jaw-dropping morality thriller.
LAtimes.com: Ashcroft and his cast - and especially Gillies as the menacing and charismatic Mandrake - excel at drawing out the moment-to-moment tension of a crime in progress.
HollywoodReporter.com: A nerve-rattling portrait of chance violence becomes a dark meditation on the long-term reverberations of childhood abuse in state institutions.
Nycmovieguru.com: A riveting, provocative and terrifying psychological horror film.
Bloodygoodhorror.com: Impactful, brutal, and unrelenting.
Horrorbuzz.com: Dark, violent, and in some moments strangely resonant, Coming Home in the Dark is a much smarter suspense thriller than we are used to.
Screenzealots.com: Filled with an unrelenting brutality that will give your nerves a jolt.
Slashfilm.com: A one and a half-hour gut-punch, Coming Home in the Dark is bleak, tense, and often unshakable. It sticks with you; haunts you. Leaves you feeling restless. Anxiety-inducing and frequently unpleasant, it travels down dark roads, and while you can likely guess the destination, getting there is no less unnerving.
Voicesfromthebalcony.com: Unrelenting and grim, from an early moment that echoes The Hitcher until its final scene, this is a tense thriller with its roots in real-world horrors.
DOWNLOADS
You need to be logged in to access this information.
.