VOD December 2019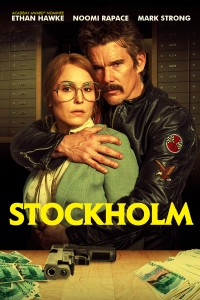 Komedie, Misdaad

Beschikbaar voor VOD: 12 december 2019

Regie: Robert Budreau

Cast: Ethan Hawke (24 Hours to Live, Traing Day, First Reformed), Noomi Rapace (Millennium 1-3, Prometheus, Bright), Mark Strong (Kingsman I & II, Grimsby, Zero Dark Thirty)
Stockholm, 1973. Lars Nystrom overvalt een bank en gijzelt enkele mensen om zijn vriend uit de gevangenis te krijgen. De onderhandelingen lopen echter vast en uren worden al snel dagen, waarin Lars zich ook van zijn zorgzame kant laat zien. Zo ontstaat er een bizarre band tussen gijzelnemer en gijzelaars, met name Bianca, een moeder van twee …
Reviews
Hollywoodreporter.com: His Stockholm, which gently massages actual events to serve as a fine vehicle for Noomi Rapace and Ethan Hawke, is far from the first movie to believably show a crime victim coming to sympathize with a criminal. But it's a funny and agile one, and should work well for art house auds. A tense and sometimes funny exploration of a famous crime.
Slashfilm.com: Ethan Hawke Steals the Show in a a suspenseful, riotous black comedy interlaced with moments of heartfelt emotion. 8/10.
JBSpins: It is a tight, energetic period thriller, helmed with a fair amount of flair by Budreau. Highly recommended.
Solzyatthemovies.com: Led by marvelous performances from Ethan Hawke and Noomi Rapace, Stockholm is a worthy addition to writer-director Robert Budreau's resume.
Moveablefest.com: Budreau crafts "Stockholm" with a reserve and sense of careful composition indicative of the civil veneer that the outlaw so ruthlessly pierces, but the sly fun it has is in line with a film that rewards patience, and although it's an open question whether that approach will pay off for its central antiheroes, it does so in spades for audiences.
Filmthreat.com: Stockholm is a strong case that you can do a lot with the tried-and-true trappings of a genre. Budreau has proved that with his propulsive and engaging film.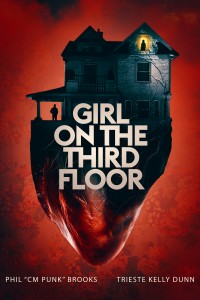 Horror

Beschikbaar voor VOD: 12 december 2019

Regie: Travis Stevens

Cast: C.M. Punk (WWF Smackdown), Sarah Brooks, Trieste Kelly Dunn (United 93)
Don Koch verhuist naar een Victoriaanse woning die hij zelf wil gaan renoveren. Al snel wordt duidelijk dat hij te veel hooi op zijn vork heeft genomen. Het nieuw huis blijkt een duister verleden te hebben. Rottende muren, slijmerige stopcontacten, bloederige wasbakken en een aantrekkelijk maar niet meer weg te krijgen stalker. Wanneer zijn hoogzwangere vrouw op bezoek komt doet ze een gruwelijke ontdekking…
Reviews
Variety: The vengeful spirits in a former bordello prey on the home's new tenants in Travis Stevens' enjoyable horror opus.
RogerEbert.com: A unique vision that satisfies from beginning to gory end.
Film School Rejects: An effectively unsettling horror film about pains caused by monsters who are far too real.
Daily Dead: truly unique and wickedly weird take on haunted house tropes.
Nighmare On Film Street: A chilling, blood drenched haunted house flick.
The Verge: A skin-crawling horror movie about home improvement and hauntings.
Nightmarish Conjurings: Viewers get an ending that they most certainly did not see coming.