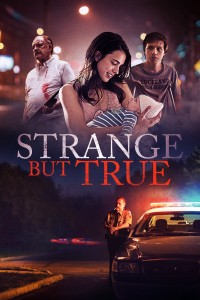 Thriller

Available on VOD: 7 mei 2020

Director: Rowan Athale

Cast: Margaret Qualley (Seberg, Once Upon A Time In Hollywood), Nick Robinson (Love Simon, Jurassic World), Brian Cox (Churchill, Succession), Amy Ryan (Gone Baby Gone, Beautiful Boy), Greg Kinnear (House of Cards, Anchorman 2 - The Legend Continues)
Ronnie Chase dies tragically on the night of the school prom while his girlfriend Melissa survives. Five years later, Melissa turns up at the Chase household to tell the surviving members of his family that she is pregnant with his child. Though sceptical, they find themselves trying to prove her right, compelled by the resurfacing of their grief, only to discover that the truth is much more terrifying than they could have ever imagined.
Reviews
HollywoodReporter.com:Â An atmospheric thriller with a noir-ish undertow and strong visual style, Strange But True puts a classy spin on familiar ingredients. The twist-heavy, logic-bending plot will test audience patience in places, but the whole package is handsomely crafted and rich in strong performances from a seasoned ensemble cast led by Amy Ryan, Brian Cox, Blythe Danner and Greg Kinnear.
NYTimes.com: The tale is a jolting one, and the superb players do justice to the emotional distress of its characters. But a surer directorial hand might have yielded a more resonant experience.
RogerEbert.com: It's a pleasure to watch a movie that's told in complete, self-contained scenes with beginnings, middles and ends, and that doesn't lean on constant editorializing music and exposition dumps to create the illusion of excitement. Athale and Garcia are going for a lean-and-mean approach, and it works well.
Bloody-flicks.co.uk: The starry cast is all excellent, as you would expect from such a lineup, but special mention should go to Amy Ryan who conveys Charlene's anger and grief with absolute conviction. This is first-rate stuff, and well worth 90 minutes of anyone's time.
Doblu.com: Strange But True provides a provocative examination of coping with grief and loss, only to evolve into a surprisingly taut psychological thriller. Rowan Athale's movie is cleverly sad and haunting with a capable cast.
Eyeforfilm.co.uk: As the film digs into psychological stress, Athale crafts the sharp, unspoken parts of grief into shards that cut at his characters.
Filmintuition.com: Serving its phenomenal cast well as a strong dramatic showcase for the actors involved, Strange But True is anchored by that fiery trio and provides proof once again (and after the recent Once Upon a Time in Hollywood) that Andie MacDowell's daughter Margaret Qualley is the real deal.
Screendaily.com: Athale flirts with the visual language of horror even before the story takes a swerve into darker territory. A creepily photographed basement, the location of Blythe Danner's laundry facilities, suggests that something malevolent is about to emerge into the story. And so it does – a truth so repulsive that it rapidly accrues a body count is launched into the action.
Nycmovieguru.com: a taut, provocative and moving psychological thriller.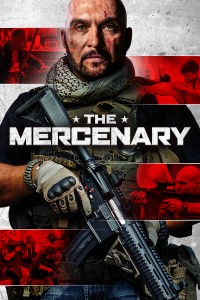 Action

Available on VOD: 14 mei 2020

Director: Jesse V. Johnson

Cast: Dominiquie Vandenberg (Triple Threat), Louis Mandylor (My Big Fat Greek Wedding 1 & 2, One in the Chamber)
Maxx is a legionnaire turned mercenary. When a mission in South America goes wrong Maxx is left for dead, but he is nursed back to health and reborn with a new outlook on life. He tries to live tranquilly within the confines of his new beliefs surrounded by his new friends at a church. But his peaceful days are short-lived when mercenaries he used to work with cross his path again and he is forced to revisit and face his own demons. His brutal past, war and violence have come looking for him again. His path to redemption is interrupted and Maxx becomes an avenging warrior using the skills that were his trade.
Reviews
Spoilerfreemoviesleuth.com: Filled with gruesome kills, a wonderfully hammy villain, and thrilling action sequences, this is the kind of picture that is the foundation for the genre.
Actionreloaded.com: The Mercenary doesn't skimp on violence either it is quite brutal, which I am sure action fans will love. Vandenberg brings his A game and I found the movie too be so much fun.
Theactionelite.com: Overall, The Mercenary is the action movie to beat this year and it`s only January 2nd. With a badass protagonist, a hateful villain and no shortage of bloodshed The Mercenary delivers and action fans should definitely seek it out.
Worldfilmgeek.com: This is definitely Dominiquie Vandenberg's shining moment as he proves to be stellar in the lead role. A must see for action fans.
Bulletproofaction.com:  Dom Vandenberg is a natural fighter with a background with the French Foreign Legion, a great kicker, he's excellent with all firearms and a master with the knife. Plus, it pays to have Louis Mandylor as the main baddie. These two together make for an awesome action movie.
Filmlegacy.net: There's an undeniable satisfaction to watching a revenge plot play out, action fans will not be disappointed.
Kungfukingdom.com: Delivers all the hard-hitting action viewers crave while blending it with a story of a warrior ready to retire but forced to complete one final mission. Dominiquie Vandenberg delivers a gentle, understated performance as a the title character while simultaneously going all out in the film's abundant action scenes.
Outlawvern.com: it's surprisingly brutal, and it ends up feeling like an origin story for a guy you want to see having more adventures.