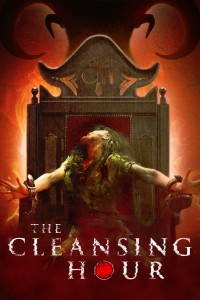 Horror

Available on VOD: 2 april 2020

Director: Damien LeVeck

Cast: Kyle Gallner (American Sniper, Jennifer's Body), Ryan Guzman (Step Up 4 Miami Heat, Pretty Little Liars), Alix Angelis (The Magnificent Seven), Emma Holzer (Boardwalk Empire, Spring Breakers)
Max & Drew are millennial entrepreneurs who've made themselves famous with a webcast they created called "The Cleansing Hour," which streams LIVE EXORCISMS. The catch? Each exorcism is elaborately staged to look real in order to dupe their global audience. Until today, when Drew's fiance, today's actress in the chair, turns out to actually be demon-possessed! Will Max and Drew will be forced to reckon with their online charade– LIVE in front of more than 20 million viewers? Or are they the unsuspecting pawns in a greater demonic conspiracy?
Reviews
Moviemeter.nl: Hapt qua energie en lol lekker weg. Lees de hele review hier.
Fantasticfest.com: a rollercoaster of a horror film, with clearly defined rules, wicked CGI, practical effects, and thrilling performances from its talented cast. Strap yourself in, grab your prayer towel, and get ready to save the souls of the Reverend Max, Drew, and Lane!
Butwhythopodcast.com: "The Cleansing Hour" is Possession Horror Gold, a film that hits so hard and unexpectedly that it makes you push back in your seat. As you watch the narrative twist like a possessed girl's body it engages you with superb creature designs and practical effects while making you laugh with its dark humor that puts a mirror up to how we all behave online.
Birthmoviesdeath.com: The script is fresh, and everything wrapped together resulted in a genuinely fun take on exorcism and possession in the digital age. Fear Dot Com meets the snark of a Supernatural demon. It plays it straight and has a hell of a lot of fun while doing it.
Adventuresinpoortaste.com: Great practical effects, wonderful chemistry between the actors, and some clever social commentary seem to set apart from other horror movies.
Morbidlybeautiful.com: A creative and humorous exploration into the weird world of social media and exorcisms. The satire of religion might turn off a few folks. But the creature from hell here is quite the bad-ass, and I'm sure horror fans will love him. Forget your Ouija board, you can find a real demon online in The Cleansing Hour.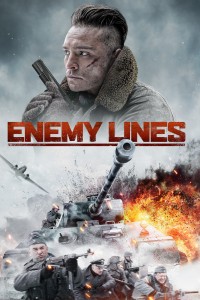 War

Available on VOD: 23 april 2020

Director: Anders Banke

Cast: Ed Westwick (Snatch TV Series), John Hannah (Overboard, Agents of S.H.I.E.L.D.), Corey Johnson (Hunter Killer, A Private War, Captain Phillips), Tom Wisdom (Avengers Endgame)
November 1943.  A British commando squad is teamed with an American officer (Ed Westwick) on a covert mission into Poland, deep behind enemy lines.   Working with the resistance they cross the harsh Polish wilderness intent on kidnapping and extracting a sought-after Polish scientist, Dr Fabian (Pawel Delag) from the Germans.
 
Fabian is known to hold information on secret innovations that would prove vital to the Allied efforts.
 
With a German hunter unit on their tail and a Russian squad also intent on kidnapping Fabian for their own ends, it becomes a race against time, that for the winners, will change the shape of the war.
Reviews
Film is nog niet uitgebracht, nog geen reviews beschikbaar.