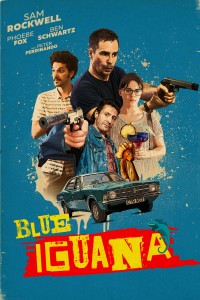 Release:
4 oktober 2018

Director:
Hadi Hajaig


Cast:
Sam Rockwell (Three Billboards Outside Ebbing, Missouri (Oscar!), Moon)
Ben Schwartz (How to Be a Latin Lover)
Phoebe Fox (Eye in the Sky)
Peter Ferdinando (King Arthur: Legend of the Sword)
Al Weaver (Love Is Thicker Than Water)


Year: 2018

A Première TV Distribution Release
SYNOPSIS
Ex-jailbirds Eddie (Sam Rockwell) and Paul (Ben Schwartz) are on parole and working in a New York diner. They're best buddies and a team, but their lives are a dead end. That is, until English lawyer Katherine Rookwood (Phoebe Fox) walks into the diner with an offer they can't refuse.
Her plan takes them to London. The prize they seek is a fabulous gem called the Blue Iguana. Up until this point Eddie and Paul's outrageous antics have never had serious consequences and they've always wriggled out of danger, with a wisecrack, a weapon and a smile. But this time, the man who stands in their way is a psychotic small-time crime boss (Ferdinando). As the story plays along with all the black comic blood-letting, gunplay and danger, the unexpected consequence of Eddie and Katherine's quest is True Love. 
DOWNLOADS
You need to be logged in to access this information.
.