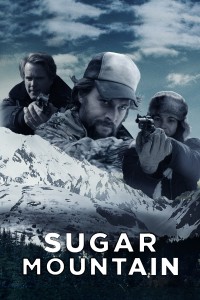 Release:
6 juli 2017

Director:
Richard Gray


Cast:
Jason Momoa (Justice League, Aquaman, Game of Thrones, Batman v Superman: Dawn of Justice)
Cary Elwes (The Princess Bride, Saw)
Shane Coffey (Pretty Little Liars)
Haley Webb (The Final Destination, Teen Wolf)
Drew Roy (Falling Skies)
Anna Hutchison (The Cabin in the Woods)


Genre:
Thriller


Year: 2017





A Première TV Distribution Release
SYNOPSIS
In a small town near the foot of the rugged Sugar Mountain, debt-ridden Miles Parnell hatches a simple plan to make money. Miles persuades girlfriend, Lauren, and brother, Liam, to help fake a disappearance in the wilderness. They'll make it look like
Liam murdered Miles because he was in love with Lauren, then when Miles returns they'll each have a story to sell; one about the brother who survived against all odds, and one about a loyal brother falsely accused of murder.
Miles goes into hiding on the icy mountain and the locals unite to rescue him. The weather turns bad and, the mountain, already home to bears and cougars, becomes even more treacherous. Soon the good people of Sugar Mountain are risking their lives for the sake of a hoax. However, Jim Huxley, the local cop, has always held Miles in disdain and is determined to prove the disappearance is fake. As he closes in on the truth, Liam scrambles to conceal the fraud. But in the process of keeping one secret, another is exposed that rocks him to the core.
And further complications threaten to derail the plan.
Liam really is in love with Lauren.
And Miles really does disappear.
REVIEWS
Filminquiry.com: Sugar Mountain is a penetrating look at how too many lies in a small town snowball into chaos, how even family can't always be trusted, and just as it is in real life, the numerous twists are surprisingly unpredictable.
Flickhunter.blogspot.nlL: The small ensemble cast hit the right beat for the piece as the plot unfurls right up to the climactic moment. The viewer will think that they're on top of the storyline early only to be faced with performances that challenge type. It's a physical, emotional, earnest tale that's well worth a watch.
Filmjournal.com: Richard Gray has crafted an engrossing, visually stunning crime thriller that looks like it cost many times that. Making full use of widescreen and of natural locations, Gray in his fifth feature conjures breathtaking images that never overwhelm an intimate story of two brothers in suffocating straits, and a simple plan that goes disastrously away.
Undertheradarmag.com: an unexpectedly entertaining, gratifying 106-minute adventure.
DOWNLOADS
You need to be logged in to access this information.
.