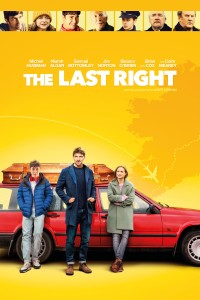 Release:
TBA Q1 2021

Director:
Aoife Crehan


Cast:
Michiel Huisman (Game of Thrones, The Age of Adaline)
Samuel Bottomley (Ackley Bridge)
Niamh Algar (Raised by Wolves)
Colm Meaney (Law Abiding Citizen, Seberg)
Brian Cox (Churchill, Succession)


Year: 2019





A Première TV Distribution Release
SYNOPSIS
New York-based DANIEL MURPHY wakes on a flight home to Ireland for his Mum's funeral to find elderly passenger PADRAIG MURPHY has died in the next seat. To his surprise the lonely Padraig had just listed him as his next of kin.
In a bid to persuade his autistic brother LOUIS to return to New York with him, Daniel agrees to drive Padraig's remains across the length of Ireland, from Cork to Rathlin Island, to be buried with his brother. Hitching a ride in the passenger seat is the funeral home temp MARY, who is on a mission to correct a drunken mistake. Meanwhile, the police realise Daniel has no business driving off with Padraig's body, and Daniel, Mary and Louis find themselves the focus of a nationwide manhunt. 
REVIEWS
Filmireland.net: A thoughtful approach to grief and isolation with sadness and humour that will ultimately offer hope for its characters. It's an unexpected road trip full of heartbreak, humour and human kindness.
TheGuardian.com: Gently heartwarming, this homecoming story about a lawyer and his autistic brother fits like a well-worn onesie.
Irishtimes.com: A likeable salute to a Magic Ireland we don't see much anymore. Lovely performances.
TheTimes.co.uk: Writer-director Aoife Crehan makes a fine — and madcap — debut.
Entertainment.ie: Sweet and earnest in all the right places.
Filmireland.net: Dutch actor Michiel Huisman has a fresh and alluring onscreen presence.
Totallydublin.ie: Hilarious
DOWNLOADS
You need to be logged in to access this information.
.