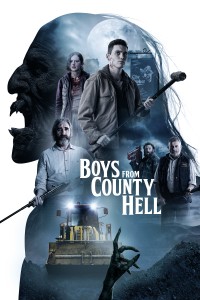 Release:
26 mei 2022

Regie:
Chris Baugh


Cast:
Jack Rowan (Peaky Blinders)
Nigel O'Neill (Bad Day for the Cut)
Louisa Harland (Derry Girls)
Michael Hough (Chapelwaite)


Jaar: 2020





A Première TV Distribution Release
Collectie: 12 van 44
SYNOPSIS
GESELECTEERD VOOR BIFFF 2022!

Ooit overnachtte Bram Stoker, de auteur van Dracula, in Six Mile Hill, een Iers boerengat waar luidens de legende de oeroude vampier Abhartach begraven ligt. Wanneer enkele wegenwerkers zijn laatste rustplaats verstoren, ontketenen ze ongewild een sinistere oerkracht waarbij Dracula maar klein bier is. Overleeft het dorp de nacht?  
REVIEWS
Bloody-disgusting.com: Springs to life when Baugh goes all-in on the horror elements. Ihe film does leave you thirsting for more vampiric slaughter.
Bloody-flicks.co.uk: Boys from County Hell is an unconventional vampire film with the humour of a Shaun of the Dead plus plenty of gore. Highly recommended.
Jbspins.com: a pretty wild ride.
TheGuardian.com: a bloody good laugh.
Ukfilmreview.co.uk: The charm and familiarity among the ensemble are undoubtedly the reasons the film works as well as it does.
Jordyreviewsit.com: A big crowd-pleaser. It's witty and emotional (at time), while being a hell of a fun ride.
Dailydead.com: a lot of fun and one that you will definitely want to check out.
Llivingsnoqualmie.com: The characters are quite funny, even if not always believable. Complete with carnage and heart-stopping moments, this film will probably start you out asking, "what on earth did we pay for" but leave you grinning and refreshed.
Letterboxd.com: Wickedly fun Irish horror movie.
Scarynerd.com: Succeeds with a brilliant tone, a different spin on vampires and successful comedy throughout.
DOWNLOADS
Je moet ingelogd zijn om deze informatie te bekijken.
.