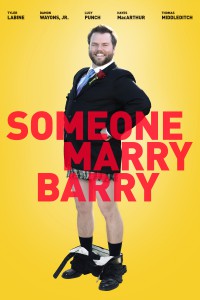 Release:
9 september 2014

Director:
Rob Pearlstein


Cast:
Lucy Punch (Into the Woods, Bad Teacher, Dinner for Schmucks, A Good Old Fashioned Orgy)
Amanda Lund
Damon Wayans Jr. (The Other Guys, Happy Endings, Dance Flick)
Ed Helms (We're the Millers, The Hangover I-III, The Office)
Tyler Labine (Rise of the Planet of the Apes, A Good Old Fashioned Orgy)
Thomas Middleditch (Another Bullshit Night in Suck City, The Campaign, Being Flynn)
Hayes MacArthur (Life as We Know It, She's Out of My League, The Babymakers)


Genre:
Comedy


Year: 2014





A Première TV Distribution Release
SYNOPSIS
Someone Marry Barry is a raucous comedy following three childhood friends who plot to get rid of their socially inappropriate friend Barry (Labine) by finding him a wife. But when Barry finally meets a woman, she turns out to be even worse than he is, and now the guys have to deal with not one but two "Barrys."
REVIEWS
NewYorkTimes.com: good entry in the bro-grows-up genre.
HollywoodReporter.com: Labine and Punch invest their performances with enough anarchic comic inventiveness and genuine chemistry to make their characters' courtship and relationship issues funnily entertaining.
Allthingsfilm.co.uk: It's zany in its well-trodden territory, but superbly played - particularly by Labine and Punch. The chances are that if you loved Coffeetown and Office Space, then you'll probably get a real kick out of this undiscovered little gem.
The-other-view.com: I enjoyed the crude combo of Labine and Punch who play off one another perfectly. If you're looking for something quick and entertaining, then this is the one.
DOWNLOADS
You need to be logged in to access this information.
.