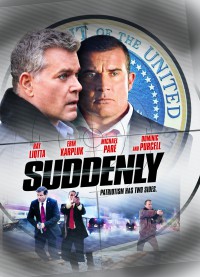 Release:
1 december 2013

Director:
Uwe Boll (Rampage, Assault on Wall Street)


Cast:
Dominic Purcell (Killer Elite, Prison Break)
Ray Liotta (Sin City: A Dame to Kill For, Goodfellas)
Erin Karpluk (Assault on Wall Street, Being Erica, Reasonable Doubt)
Cole Coker
Michael Paré (The Philadelphia Experiment, The Lincoln Lawyer, The Virgin Suicides)


Genre:
Thriller


Year: 2013





A Première TV Distribution Release
SYNOPSIS
The quaint mountain town of Suddenly is about to play host for a surprise visit from the President of the United States, who's passing through while on a fishing vacation in the area. As the local police force scrambles to prepare for the arrival of the leader of the free world, a team of Secret Service Agents ensures no stone is left unturned to ensure the President's safety. To make sure the President's visit goes without a hitch, the Secret Service enlists the town Sheriff and his deputies to assist them. Unknown to them, one of the Deputies is a grizzled vet who suffers from post-traumatic stress and doesn't take well to confrontation. It soon becomes clear the residents of this picturesque mountain town have a number of secrets they're rather keep hidden. Working against the clock to secure the area and keep the locals placated, a small house that overlooks the valley becomes a point of interest for the Secret Service. Its vantage point necessitates a quick inspection and a small team of Agents is sent calling. The owner of the house, a single mother, lives with her elderly father and young, rebellious son. The team of Agents invite themselves in and it soon becomes clear they have an ulterior agenda for the arrival of the President. Taking the family hostage at gunpoint, the Agents attempt to keep the family subdued and the Sheriff's men at bay until the arrival of the President – whom they intend to assassinate.
REVIEWS
1nfluxmagazine.com: Another unexpectedly decent movie from Mr Uwe Boll. This is getting to become a habit! I would say this is the best I've seen from Uwe Boll.
MediaMikes.com: I have always had a sweet spot for Uwe Boll's film but this is definitely one of his best. It is well shot and packs some solid suspense.
DOWNLOADS
You need to be logged in to access this information.
.