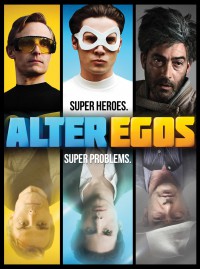 Release:
1 juni 2014

Director:
Jordan Galland


Cast:
John Ventimiglia (The Iceman, The Sopranos)
Danny Masterson (Yes Man, Face Off)
Joey Kern (Cabin Fever, The Goods: Live Hard, Sell Hard)
Brooke Nevin (I'll Always Know What You Did Last Summer, Breakout Kings)
Kris Lemche (eXistenZ, Final Destination 3)


Genre:
Comedy


Year: 2012





A Première TV Distribution Release
SYNOPSIS
In a world where the Supercorps is losing its popular support and its government funding, Fridge, a superhero with an identity crisis, is summoned by his partner, C-thru, on a routine mission that hides a massive conspiracy. Fridge's alter ego is Brendan, a pathetic loser whose girlfriend has fallen for Fridge. Arriving at the isolated hotel which is their meeting place, the depressed Brendan is instantly enamored of Claudel, the lovely but cynical innkeeper, who is trying to end her affair with Jimmy Fontaine, a corrupt local cop. Claudel loathes the hypocrisy of superheroes, but, unaware that Brendan is also Fridge, she returns his affection, thinking he seems normal and sweet. Claudel and Brendan's budding romance is interrupted when C-thru tells Fridge that Shrink, the supervillain they're transporting, is the evil genius responsible for the death of Brendan's parents. Galvanized by the possibility of revenge, but thrown into turmoil by his love for Claudel, the ambivalent Brendan confronts Shrink and discovers truths about his life and the Supercorps that make him question the difference between good and evil. Vengeance, betrayal, repentance and jealousy lead to a violent and unexpected climax.
REVIEWS
eFilmCritic.com: Actually manages to be super-entertaining. Galland handles things very well as both a writer and director, but it's up to the cast to sell it, and they do a pretty great job
Foolsview: amusing meditation on the superhero mythos.
MediaMikes.com: The film is very smarty written and directed. The great casting overall is one of the main reasons why this film succeeds.
Popmatters.com: an intimate dramedy examining the psychology, personal lives, and cultural alienation of costumed adventurers. 8/10.
DOWNLOADS
You need to be logged in to access this information.
.