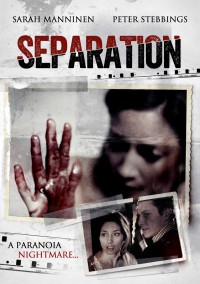 Release:
1 mei 2014

Director:
Greg White


Cast:
Sarah Manninen (The Prince & Me)
Peter Stebbings (Jack and Jill vs. the World, K-19: The Widowmaker)
Dmitry Chepovetsky (Lucky Number Slevin)
Al Sapienza (Margin Call)


Genre:
Thriller


Year: 2013





A Première TV Distribution Release
SYNOPSIS
Hemlock Lake is a quaint little town. But it is autumn, and this tiny summering community is eerily quiet except for 9 year old Angie Appleton, riding her bicycle down the empty rural road and up the driveway of a picturesque lakeside cottage, a 'Sold' sign on the front lawn. The Appletons have just moved in.
Jack and Liz have moved to Hemlock Lake for a fresh start. That's what Liz is hoping for, she wants to keep the family together. Jack will do anything for her, but he knows when things have gone too far. Liz suffers from blinding migraines that cause her to black out and "see things". She tries to control it with sheer willpower but more often than not, with medication.
As night falls, Liz starts to have more frequent episodes. She is seeing things outside, but are they real? Late in the evening, a knock comes at the door. The stranger introduces himself as Geoffrey, a neighbor, with a desire to come in to see what they have "done to the place" and is obviously smitten with Liz. Jack suspiciously sends him on his way as Liz sinks deeper into a sense of dread and the purgatory between fantasy and reality.
When Jack realizes that Liz hasn't been imagining things, and that they are being stalked, Jack and Liz must prevent the intruders from getting the one thing they want...little Angie Appleton.
REVIEWS
Aintitcool.com: SEPARATION is a slow broiler, final act gut-puncher of a film. Filled with moments of paranoia and hallucinogenic nightmares which make you question early on what's real and what isn't, SEPARATION borrows from such paranoia-riddled films as REPULSION, INVASION OF THE BODY SNATCHERS, and THE STRANGERS, while still being unique in and of itself.
Fearnet.com: Separation is a smart, quiet, and fascinating piece of "dramatic" horror storytelling; it's not about shocking you with simple scares. It's actually about normal fears we live with every day, and it handles them with a good deal of class, confidence, and insight.
DreadCentral.com: Gets the audience squirming in their seats. Fans of a unique story will dig this film, and if you like indies, you'll fall in love with this dastardly film which ends with a still shot that sent chills up my spine considering what was about to happen next. Separation is certainly worth a look.
Filmoria.co.uk: this little indie is a formidable debut by White, who manages to produce enough tension to warrant some jumps and enough intrigue to keep interest. White is able to blur the lines between reality and fantasy in a way that will have you guessing through to the end.
Horror-Movies.ca: : a bracing, unexpected bit of thriller/horror that challenges you to stay ahead of the action but not get too smart for your own good. Its clever, sharp production and clear style set it a measure above many indie films of this kind.
Cultcutsfilms.com: White's precise direction is controlled brilliance and the two primary leads convey dread so convincingly that you'll be chewing your nails way before you know exactly why you're even doing it. You crave suspense? Like intensity? Feel like you can't be surprised anymore? Separation is for you.
Allhorror.net: a twisted piece of filmmaking that will have you questioning just you're watching right up until the final moments.
BloodyDisgusting.com: This indie surprise is pretty good. Separation has as a solid story and the leads carry the movie through its rough patches.
TheTFS.ca: Separation is one hell of a zinger and a refreshing film that reminded me how great thrillers are constructed.
pressplus1.com: a first-rate little thriller that has the potential of acquiring a much larger audience, if given the proper promotion and marketing.
HorrorAsylum.com: I enjoyed Separation very much ... It is rare to find something that surprises you and Separation certainly does that.
Underthegunreview.net: Separation is directed, shot, acted, and edited beautifully. In a true David Lynch-esque fashion the drama is broken up with unsettling and often jarring nightmarish flashes of horror. After the first viewing your brain will try its best to process it, but it will crave another viewing. The plot twists and turns to keep you guessing and even when it is all said and done you will want to go back for another ride. Separation is a great thriller that will keep you entertained.
Matthewscottbaker.com: Separation does a stunning turnaround at the end of the film that will leave you gasping. A hell of a good film, and I highly recommend giving it a look.
DOWNLOADS
You need to be logged in to access this information.
.