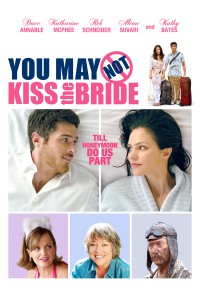 Release:
5 februari 2013

Director:
Rob Hedden


Cast:
Dave Annable (Brothers & Sisters)
Katharine McPhee (Smash)
Rob Schneider (Deuce Bigalow, You Don)
Kathy Bates (Titanic, About Schmidt)
Vinnie Jones (Snatch, Hijacked, X-Men: The Last Stand)
Tia Carrere (True Lies)
Ken Davitian (Borat)


Genre:
Romantic Comedy


Year: 2011





A Première TV Distribution Release
You May Not Kiss The Bride
SYNOPSIS
Bryan Lighthouse photographs pets for a living – until the day that a client's German Shepherd chases and maims the beloved cat owned by the wife of Croatian crime lord Vlatko Nikitin. Rather than killing Bryan, Nikitin offers him an alternative: marry his daughter Mashaso she can get her green card. Bryan meets his Croatian bride and is instantly attracted to her... But, Nikitin makes it perfectly clear that Bryan is not allowed to touch Masha since she's been promised to Nikitin's jealous hit man, Brick. When Masha gets abducted and Brick convinces Nikitin that Bryan must be behind the plot, the pet photographer is as good as dead.
REVIEWS
Filmdilettante.com: A funny storyline, a good comic cast, and great sight gags ... a shining example of the genre.
ScreenSpotlight.com: Katharine McPhee seems so sweet and innocent and David Annable has a bright future.
Washington Post: Its lunacy is well staged and fast-paced.
Matchflick.com: YOU MAY NOT KISS the BRIDE is a Rom-Com for guys, full of physical comedy, explosions, and gunplay, and for girls who like the nice guy to get the girl, complete with a very gooey Hollywood Ending. Let's just say everyone's dreams came true, which is no real spoiler for a Rom-Com.
Themoviescene.co.uk: The likeability of Dave Annable and Katharine McPhee combined with a recognizable supporting cast and some genuinely amusing scenes makes it a pleasant surprise and much better than you probably expect.
Screenspotlight.com: Katharine McPhee seems so sweet and innocent and David Annable has a bright future in the movie business. This film definitely needs more Rob Schneider but his absence is forgivable as his character is by definition a colossal dumbass. Vinnie Jones is his typical rugged and bullying self (not a compliment). It is always worth a look to see Ken Davitian trying to play a character that is not associated with Borat. Perhaps my favorite character/actress in the film is Mena Suvari. She is willing to do whatever it takes to entertain audiences and it is clear that her incredible physique is often overlooked. Essentially, You May Not Kiss the Bride is worth your attention.
DOWNLOADS
You need to be logged in to access this information.
.