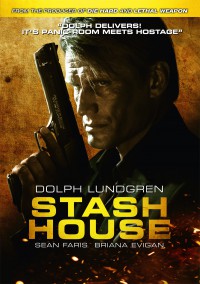 Release:
4 september 2012

Director:
Eduardo Rodriguez


Cast:
Sean Faris (Never Back Down)
Dolph Lundgren (The Expendables 1/2, Universal Soldier, SAF3)
Briana Evigan (Step Up 2: The Streets, Sorority Row, Step Up 5)


Year: 2012





On Behalf of Koch Media
SYNOPSIS
A couple love their new house, bought for a steal out of a foreclosure. During their first visit they find illegal drugs stashed in the walls, and they realize this is not their dream house. As they are about to leave, suddenly their exit is blocked by a gun-wielding neighbor Spector and his accomplice. They come to realize the house is hiding more than drugs - it's the operation center for mass drug czar who is buried beneath the floorboards. On the run from the professional killers who want the drugs and evidence, the resourceful couple will need to turn the tables on their attackers to survive.
REVIEWS
Bizfilm.com: original and the tension really starts building up towards the end.
BeyondHollywood.com: There are enough nice, clever moments in the film as Emma and David slowly uncover more and more of the house's secrets to keep things interesting and moving.
DOWNLOADS
You need to be logged in to access this information.
.