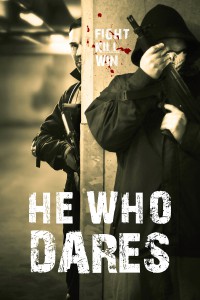 Release:
10 februari 2015

Director:
Paul Tanter


Cast:
Zara Phythian (The Hike)
Ben Loyd-Holmes (Band of Brothers)
Ewan Ross (Age of Heroes, White Collar Hooligan 2: England Away)
Christina Bellavia
Tom Benedict Knight (Kick-Ass 2, White Collar Hooligan 2: England Away)
Simon Phillips (He Who Dares)


Genre:
Action


Year: 2014





A Première TV Distribution Release
SYNOPSIS
'Die Hard' meets 'The Raid' in the violent action thriller HE WHO DARES - when the SAS, Britain's elite Special Forces unit, take on an utterly ruthless terrorist cell who've kidnapped the Prime Minister's daughter.
Packed full of wild, explosive action – insane car chases, intense hand to hand combat, and ferocious gun battles – HE WHO DARES never lets up. Fight. Kill. Win.
REVIEWS
1nfluxmagazine.com: A taut action picture that kept me on the edge of my seat.
28dayslateranalysis.com: He Who Dares is a solid action film for those looking for some light entertainment. 7.5 out of 10: an intriguing premise, good acting, lots of violent scenarios.
Britflicks.com: Director Paul Tanter (The Rise & Fall of a White Collar Hooligan) doesn't disappoint with some cracking shoot outs and hand to hand combat. Phillips revels in the larger than life, evil kingpin role, and it's an exciting surprise when the martial arts bombshell Zara Phythian gets to show off a roundhouse or two.
DOWNLOADS
You need to be logged in to access this information.
.