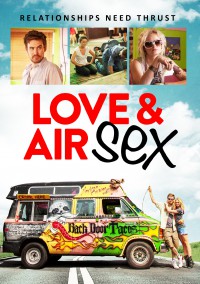 Release:
21 oktober 2014

Director:
Bryan Poyser (Dear Pillow)


Cast:
Marshall Allman (True Blood, Jayne Mansfield's Car)
Addison Timlin (Best Man Down, Californication)
Michael Stahl-David (Cloverfield)
Sara Paxton (Shark Night 3D, Superhero Movie)
Zach Cregger (Guys with Kids)
Ashley Bell (The Last Exorcism)


Genre:
Comedy


Year: 2013





A Première TV Distribution Release
SYNOPSIS
Breaking up is hard to do. Desperate and lonely, when Stan learns that his ex, Cathy, will be in Austin for the weekend, he hops on the first flight to the Lone Star State with hopes of "accidentally" running into her there. Little does he know that another breakup crisis will greet him in Austin between his friends Jeff and Kara. Cavorting through Austin's honkytonks, nightclubs, and a cutthroat air-sex competition, the two former couples find bouncing back from heartache to be unexpectedly complicated.
An outrageous but heartfelt comedy, Love & Air Sex is Bryan Poyser's follow-up to the hit Sundance film, LOVERS OF HATE.
REVIEWS
New York Times: "Love & Air Sex" has a spontaneity and cheeky attitude ... along with spirited naturalistic performances that infuse the standard rom-com formula with a zany vitality.
Village Voice: What's remarkable is that despite the sweaty overdetermination of the film's dude-bro interactions and the whole prefabricated concept of performance air sex, the love story has actual depth and sadness.
Aintitcool.com: A really fresh take on the traditional romantic comedy. The performances are stellar all around. The film is an incredibly fun and invigorating film.
Filmthreat.com: Bryan Poyser's "Love & Air Sex" navigates the dreaded (at least for people like me) rom-com genre but makes it totally his own. The standard character types are represented, but Poyser gives them much more depth and reason than we have grown accustomed to with Hollywood rom-coms. Sure, some of the dialogue could easily be categorized as broad comedy, but it is cleverly written and delivered with a high level of realism. Their motivations and actions seem perfectly sincere and natural, not contrived for greater dramatic or comedic effect.
Variety.com: In what looks a lot like a studio comedy, but air-humps as only an indie can, rebound-themed raunch-a-thon "Love & Air Sex" sees director Bryan Poyser and co-scribes Steven Walters and David DeGrow Shotwell channeling such mid-'90s relationship pics as "Clerks" and "Swingers," where the biggest laughs are triggered by recognition, rather than crossing the line of acceptability, though this untamed farce certainly does that, too, since it's set against the actual Air Sex World Championships.
Globalcomment.com: Poysner's rom-com feels like a companion piece to Kevin Smith's "Chasing Amy." Both have that raw, comic intensity, even insanity that by-pass most films in this genre.
MacGuff.in: Like any good shock comedy, the film is fun; it will generate plenty of belly laughs.
Twitchfilm.com: A careful balance between hilarious vulgarity and clever honesty, The Bounceback is the rare comedy you want to re-watch again and again with a revolving audience. Don't just plan a casual run-in with this film; pursue it.
Indiewire.com: "people always want what they can't have," says one of the crew -- but the script treats them with a gentle touch that keeps the pace brisk and enjoyable.
Playmakeronline.com: easily one of the funniest movies that you'll see at SXSW this year, and possibly the best, even among the big Hollywood showcases.
DOWNLOADS
You need to be logged in to access this information.
.