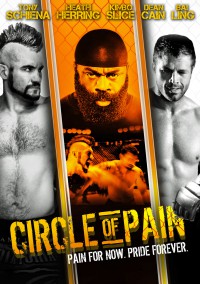 Release:
12 maart 2013

Director:
Daniel Zirilli


Cast:
Tony Schiena (Locked Down)
Dean Cain (Lois & Clark, The New Adventures of Superman, Ripley's Believe it or Not!)
Bai Ling (Crank: High Voltage)
Kimbo Slice
Heath Herring


Genre:
Action


Year: 2010





A Première TV Distribution Release
SYNOPSIS
After a tragic training accident with his best friend, Dalton Hunt (Tony Schiena) retires from the world of mixed martial arts at the top of his game. Unable to live with his guilt, he loses his family, his title and his way. When a ruthless promoter (Bai Ling) blackmails him back into a fight against the current champ (Heath Herring), Dalton must enlist the aid of an enigmatic trainer (Louis Herthum) to turn him into a warrior once again. MMA fighter Yves Edwards and actor Louis Herthum (The Curious Case of Benjamin Button) also appear in Circle of Pain.
REVIEWS
Comeuppancereviews.com: It delivers what you want
DVDVerdict.com: Finally an MMA film worthy of the fighters.
MattMovieGuy.com: It's the Rocky V of MMA films. Bai Ling was awesome.
DOWNLOADS
You need to be logged in to access this information.
.