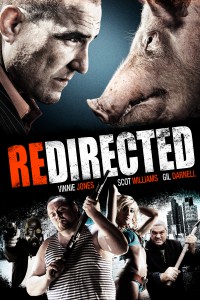 Release:
13 januari 2015

Director:
Emilis Velyvis


Cast:
Oliver Jackson (Entity)
Gil Darnell (All Things to All Men)
Scot Williams (Clubbed, Dead Man Running)
Vinnie Jones (Snatch, Hijacked, X-Men: The Last Stand)


Duration: 90 min.

Year: 2014





A Première TV Distribution Release
SYNOPSIS
REDIRECTED is an outrageous hangover-meets-guy-ritchie type criminal action-drama-thriller comedy with a distinctive flavor of Eastern European exotic. It tells a story of four friends turned first-time robbers John, Ben, Tim and Michael who accidentally get stranded in a middle-of-nowhere Eastern European country and have to fight their way back home through the land of whores, smugglers, dirty cops, cheap beer and sick fantasies. In order to save their asses, friends must not only overcome an ultimate culture shock experience, but also rediscover their friendship.
The plan seemed 100% bulletproof: They take over an illegal casino in London, get the money, catch a plane to Malaysia and get lost in mind-blowing exotics of emerald jungle, golden beaches, cheap alcohol and teenage sex. The plan was a genius, and it worked. Almost.
They took over a casino and they got the money around one million pounds in cash. But the bad guys started shooting. Michael freaked-out and tried to back away. Tim had no chance but to beat sense into him with a fire extinguisher, which resulted in Michael boarding a plane senseless. The plane took off and And then a volcano in Iceland started spewing ash like crazy and all the flights had to be grounded. This is how John, Ben, Tim and Michael got stranded in some post-soviet Eastern European country with an unpronounceable name and sick attitude towards everything.
That's when all the fun starts.
Read about Redirected's succes in Lithuania here: http://www.hollywoodreporter.com/news/gangster-comedy-redirected-breaks-box-692162.
REVIEWS
Holland Media Combinatie: Het tempo is vlot, de (Britse) humor gortdroog en de karakters zijn lekker gestoord. Zoals de stereotiepe Oostblokkers: de vrouwen zijn hoerenen de mannen barbaarse oplichters. Liefhebbers van de opbouw van Tarantino en films als 'The Hangover' en 'Lock, stock & two smoking barrels' zullen dit kunnen waarderen.
Cinemagazine.nl: In Redirected zitten shots en hoofdstukvoering van Tarantino, het tempo van Guy Richie en de hilariteit van The Hangover. Stop ze in een grote kookpot en doe er een goede scheut Litouwen bij en je hebt Redirected. Met grafische elementen om aan te geven waar in het verhaal we zijn, komt een duidelijk Tarantino-gevoel mee. Maar dat is niet het enige: de zwarte humor in het algemeen en wat concreter refereerde een shot met lopende mannen in pakken aan Reservoir Dogs. Alle vooroordelen over Litouwen (overigens in de film uitgesproken als "Lithou-fucking-wania") worden aangehaald en uitvergroot. Iedereen is crimineel, alcoholist, hoer of oud, of alles tegelijk. Kippen lopen gewoon los in huis en in de dorpen is eigenlijk helemaal niets, behalve iets te dikke mensen. Redirected blijft spannend en verrassend tot het eind. De actie volgt elkaar in rap tempo op. In Litouwen is de film een succes, maar Redirected is voor iedereen grappig en herkenbaar. De stereotypen confronteren je met de vooroordelen, ook over de dronken Engelsen. Verder is er niets moeilijks of dieps aan de film, en dat is maar goed ook, dit is puur vermaak.
Britflicks.com: Redirected is a nicely made film with high production values ans has laughs a plenty. A comic gangster caper that's worthy of a look.
DOWNLOADS
You need to be logged in to access this information.
.