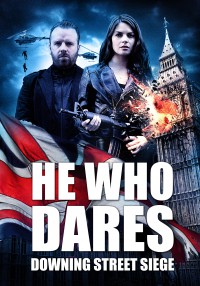 Release:
24 augustus 2015

Director:
Paul Tanter


Cast:
Ryan Winsley (Kruistocht in Spijkerbroek, Piggy)
Russell Kilmister (The Meaning Of Live, Secret State)
Tom Benedict Knight (Kick-Ass 2, White Collar Hooligan 2: England Away)
Simon Phillips (He Who Dares)


Year: 2014





A Première TV Distribution Release
He Who Dares - Downing Street Siege
SYNOPSIS
The film will continue to follow the Special Air Service (SAS) anti–hijacking counter–terrorism team. In the triller, Christopher Lowe finds himself summoned to 10 Downing Street to be dishonorably discharged from the SAS for disobeying a direct order, despite the fact that he saved the Prime Minister's only daughter.
REVIEWS
Themoviewaffler.com: He Who Dares: Downing Street Siege has its niche target audience so tightly in its crosshairs, and caters exclusively and gleefully to it.
DOWNLOADS
You need to be logged in to access this information.
.