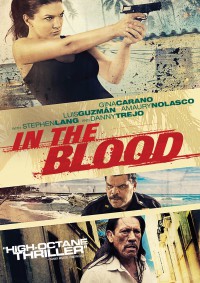 Release:
18 november 2014

Director:
John Stockwell


Cast:
Gina Carano (Deadpool, Haywire, Furious 6)
Cam Gigandet (Priest, The Twilight Saga: Breaking Dawn II, Easy A)
Stephen Lang (Avatar, Don't Breathe, In The Blood)
Luis Guzmán (The Last Stand, The Taking of Pelham 1 2 3, Anger Management )
Danny Trejo (Machete, In the Blood)
Amaury Nolasco (A Good Day to Die Hard, Transformers, 2 Fast 2 Furious)
Ismael Cruz Cordova (White Alligator)


Year: 2014





A Première TV Distribution Release
SYNOPSIS
Gina Carano stars as Ava, a trained fighter with a dark past. When her new husband (Cam Gigandet) vanishes during their Caribbean honeymoon, Ava uncovers a violent underworld of conspiracy in the middle of an island paradise. Armed with a deadly set of skills, Ava sets out to discover the truth – and to take down the men she thinks are responsible for his abduction, one by one.
REVIEWS
1nfluxmagazine.com: A movie that kept me glued to the screen...and my adrenalin pumping! An exceptional film all around.
Cinema-crazed.com: The excellent Gina Carano takes her shot at her own version of "Breakdown," and "Frantic," with an action thriller that delivers on all fronts. "In the Blood" is a great vehicle for Gina Carano, it's a tense and exciting action thriller I was very much invested in until the very end, and I can't wait to see more from Ms. Carano.
CoolAwesomeMovies.com: The bottom line, that is, why "In the Blood" works is the following: Gina Carano is a good action hero(ine). Gina bring that old-school action vibe to the table.
KungFuCinema.com: Following her debut lead role in HAYWIRE, former mixed martial arts champion Gina Carano proves with this follow-up that she can not only fight, but proves herself to be a good actress.
TheFilmStage.com: This is her Cobra, her Commando, her Double Team — now she is truly an action star.
DigitalJournal.com: One of the great things about casting Carano in this role is she is believable. As a former mixed martial arts fighter turned actress, she doesn't need to pretend to know what she's doing in a fight because she actually does.
Cooltarget.blogspot.co.uk: It's Carano's relentless mission through the seedier side of the Caribbean that gives the film its momentum and the former fighter turn actress proves again she's got the talent to become a leading female action star.
Cinemadeviant.com: You completely get your money's worth with this one and if you are into action movies or (more importantly) Gina Carano then you WILL NOT be disappointed one bit and I can't wait to see her in more movies like this.
Variety.com: Ava goes full Death Wish. Not just a martial artist, Ava proves proficient in amateur surgery ("Oh, but you can live without your spleen, can't you?).
LATimes.com: Action and thrills are 'In the Blood'.
Examiner.com: [The] star is no shrinking violet unable to fend off her attackers. Instead it's MMA star-turned-movie bad ass Gina Carano, in her first solo lead role since Haywire. When she's doing her thing, namely cracking a few skulls, the film is a fun, gritty throwback. She's not only a physical force of nature, bending her screen foes into pretzels with ease, but she's also quite the beauty and someone who has a natural presence. When Carano is given free reign to break a few bones, you never want to look away. A solid old school action flick.
Theactionelite.com: Overall, In the Blood really showcases Gina Carano's action hero credentials and if you're looking for a movie with some twists and turns, engaging story and plenty of broken bones then you'll have a blast.
7mpictures.com: Fortunately, "In the Blood" is more like the aforementioned "Taken" and less like "Hostel." Still, it's this ripped-from-the-headlines approach to the story that makes it hit home.
ShowBizJunkies.com: The film's well-paced and if you're into reality-driven action scenes, it's one of the better offerings in what's, thus far, been a disappointing year for the genre.
Filmschoolrejects.com: Ava breaks more than a few bones on her way to the truth, and that's where Carano shines.
DVDTalk.com: It's a stalwart reminder of traditional punch-and-kick action flicks standing firm for a tradition of non-CGI stunts.
DOWNLOADS
You need to be logged in to access this information.
.