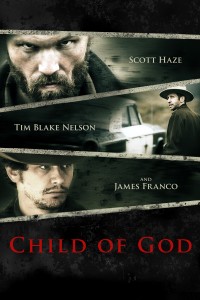 Release:
15 juni 2015

Director:
James Franco (127 Hours, This Is the End, Veronica Mars)


Cast:
Fallon Goodson (L!fe Happens)
Scott Haze (As I Lay Dying)
Tim Blake Nelson (Lincoln, The Incredible Hulk, The Astronaut Farmer, O Brother, Where Art Thou?)
James Franco (127 Hours, This Is the End, Veronica Mars)


Year: 2013





A Première TV Distribution Release
SYNOPSIS
Based on a book by Cormac McCarthy. Set in mountainous Sevier County, Tennessee, Child of God tells the story of Lester Ballard, a dispossessed, violent man whom the narrator describes as "a child of God much like yourself perhaps." Ballard's life is a disastrous attempt to exist outside the social order. Successively deprived of parents and homes and with few other ties, Ballard descends literally and figuratively to the level of a cave dweller as he falls deeper into crime and degradation.
REVIEWS
Variety.com: A galvanizing portrait of social and sexual deviance.
FilmThreat.com: Profoundly intense .. [an] incredible and fierce performance.
TheGuardian.com: Multi-hyphenate renaissance man James Franco has finally delivered the goods with this great, grisly Cormac McCarthy adaptation. Child of God is a shocking tale of backwoods lunacy and one man's descent into hell.
HollywoodReporter.com: A pitch-dark hillbilly fever dream... A character study of a figure said to be partly inspired by Wisconsin murderer and body snatcher Ed Gein (also an influence on the killers in Psycho and The Texas Chainsaw Massacre), the film succeeds on its own terms. That is in large part down to Haze's unstinting commitment to the role.
Film-forward.com: In a character actor/star making performance, Scott Haze leads a ferocious cast. Macabre but memorable.
Filmleaf.net: A well-made film, dominated by a once-in-a-lifetime, balls-out performance by Scott Haze as Lester Ballard, the crazed outcast, the titular, protagonist "child of God" (testing the range of that concept) who in the course of the story becomes a cave-dweller, murderer, and necrophiliac.
Cine-vue.com: Franco (through the excellent Haze) has created a dark portrait of an outcast, lacing it with his own bleak poetry and black humour. 4 out of 5 stars.
Rollingstone.com: The film's protagonist is Lester Ballard, played by Scott Haze in a performance that can be described for starters as phenomenal. This is ambitious, challenging filmmaking, elevated by Franco's compassion and Haze's revelatory acting. OK, the film trips up on its attempt to lace tragedy with gallows humor. But Franco is out there trying something, balancing literature and cinema in a tightrope act that is never less than exciting to watch.
AWARDS
Hamptons International Film Festival 2013: Breakthrough Performer - Scott Haze
Venice Film Festival 2013: Nominated for Golden Lion.
DOWNLOADS
You need to be logged in to access this information.
.