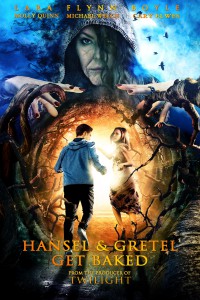 Release:
1 juni 2014

Director:
Duane Journey


Cast:
Yancy Butler (Kick-Ass 1 & 2)
Andrew James Allen (The Lovely Bones)
Molly C. Quinn (Castle, We're the Millers, Winx Club)
Michael Welch (The Twilight Saga (all films))
Lara Flynn Boyle (Men In Black II, The Practice, Twin Peaks)


Year: 2013





A Première TV Distribution Release
Hansel & Gretel Get Baked
SYNOPSIS
When Gretel's stoner boyfriend goes missing, she tracks him down to a suburban house where she discovers Agnes, a little old lady from Pasadena who grows the best weed in town, devouring his soul to revive her youth and beauty. Her attempts to rescue him are thwarted by the arrival of a drug gang who threaten a turf war. The ensuing battle pitches latino home boys against a cannibal witch, a hound from hell and a pack of rabid zombies.
REVIEWS
ScreenDaily.com: Fairy-tale horror and stoner comedy combine to good effect in Hansel And Gretel Get Baked, a smart and entertaining youth-orientated chiller that delivers a goodly amount of gore along with the slacker laughs. Molly C. Quinn is great as Gretel, a smart stoner turned investigator, and shows that she can carry a lead role, while Lara Flynn Boyle gets to change her persona from wrinkly old crone to would-be sex kitten.
28dayslateranalysis.com: actress Lara Flynn Boyle anchors the film expertly with her character, the notorious witch of German fairytales. All of the performances are solid, but this film will be remembered for its hilarity and light-hearted mood.
AlienBee.net: a really fun movie! Even though it doesn't have that blockbuster budget there are so many things about the movie that make up for it. Great acting, some fun special effects and that special, special witch played by Lara Flynn Boyle, she's both beautiful and deadly you know!
Best-horror-movies.com: Hansel & Gretel Get Baked is most definitely worth a watch. This film has camp, gore, stupid drug references, flayings alive and killer dogs – not to mention the most amazing indoor pot-growing mecca ever conceived.
Bloody-disgusting.com: The film doesn't try to do anything outside of retelling the fairy tale with more stoner humor and bloody carnage. However, that's what makes it so enjoyable in the first place. There are fun characters with good dialogue. The dark humor hits its marks and the script has some clever moments. The gore and scares are satisfying and messy. Better yet, there's even a cameo by Carry Elwes with a ridiculous mustache. Hansel and Gretel Get Baked is a lot of fun for the comedy loving horror fan in all of us.
Britflicks.com: Ever wondered what happened to Lara Flynn Boyle? Catch her in this stoner horror that loosely uses the Hansel and Gretel fairy tale for gore and smiles.
Dreadcentral.com: Hansel & Gretel Get Baked is fun whether you're a big fan of stoner comedy or not. There's a ton of action, nice effects, witches, zombies, cannibalism and a badass demonic Doberman.
Goodefficientbutchery.blogspot.nl: Well-made, doesn't fall into the trap of repetitive and annoying stoner humor and Boyle, who hasn't been seen in much since the 2005-2006 season of the NBC series LAS VEGAS, really gets a chance to cut loose here and have some fun.
Horrornews.net: a goofy, entertaining picture that is worth catching for its spirited performances, gruesome special effects and spicy black comedy.
Mikeschiller.blogspot.nl: This was a very entertaining movie with a lot of black comedy, it was certainly a unique and very modern spin on the classic children's story. This is the first time I've seen Michael Welch in a movie other than the Twilight series and his performance was excellent.
Thehorrorclub.blogspot.nl: the movie takes on a more serious tone as things progress, and it all ends up being a solid mixture of bloody and fun.
Wegotthiscovered.com: there are some wickedly entertaining moments that produce an inconsistant yet intoxicating high.
DOWNLOADS
You need to be logged in to access this information.
.