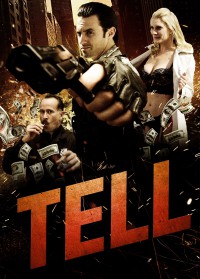 Release:
24 februari 2015

Director:
J.M.R. Luna


Cast:
Milo Ventimiglia (Heroes, Grace of Monaco, Gamer, Killing Season)
Katee Sackhoff (Battlestar Galactica, The Chronicles of Riddick: Dead Man Stalking, Oculus)
Jason Lee (Cop Out, My Name Is Earl, Vanilla Sky, Jay and Silent Bob Strike Back)
Alan Tudyk (I Robot, Transformers: Dark of the Moon, Knocked Up, 3:10 to Yuma)
Faizon Love (The Paperboy, Big Mommas: Like Father, Like Son, Elf)
Robert Patrick (Terminator 2, Jayne Mansfield's Car, Flags of Our Fathers, Walk the Line)
Oscar Nunez (The Office, The Proposal)


Year: 2014





A Première TV Distribution Release
SYNOPSIS
Ethan Tell isn't your average ordinary criminal. With a heart that makes him care too much, but a head that keeps him one step in front of everyone else, he takes part in a bank robbery that, if according to plan, will result in he and his wife Beverly walking away with a cool million dollars, while leaving his co-conspirators in the dust. But as we all know, things never go according to plan... Ethan makes it out with the million in hand, but is followed by police. In a moment of desperation, Beverly shoots him, grabs whatever cash she can carry on her person and takes off. Bleeding to death with no options left in front of him, Ethan lights his house on fire, using it as a diversion to barely escape. But the injury takes his tole and Ethan is found on the side of the road hanging onto dear life. After everything he's been through he's left with no money, no wife and nothing else to his name when the police arrest him and throw him in jail.
Three years later he is released from prison, but soon discovers that he is anything but free. Everyone, and we mean EVERYONE, wants to know where the cash is. Regardless of his insistent claims that it must of burned in the fire, Tell is now being stalked by two corrupt cops, his betrayed ex-partner-in-crime, his parole officer and his greedy ex-wife who are all hoping he will lead them to where he stashed the cash before his arrest. Seems like quite a predicament for a reformed criminal just trying to stay straight and make ends meet.
But remember, Ethan Tell isn't your average ordinary criminal and this is going to be one crazy ride of who's playing who right until the truth is all finally revealed.
REVIEWS
1nfluxmagazine.com: Tell is Juan M.R. Luna's impressive debut solo directorial effort, with writing by Timothy Williams, whose darkly witty script was one of the highlights of the film. Similar in some respects to Paul McGuigan's 2006 crime caper Lucky Number Slevin, Tell follows the exploits of Milo Ventimiglia's unlucky character, Tell. Like with Slevin Kelevra, Tell goes through the movie being hit in the face by ruthless people who want answers. Tell is played by the hugely talented Milo Ventimiglia, who really nailed his character. If this is a glimpse of things to come from director J.M.R. Luna, then I'll be making a point to see his future efforts. Highly recommended viewing.
DOWNLOADS
You need to be logged in to access this information.
.