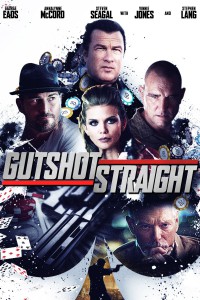 Release:
13 april 2015

Director:
Justin Steele


Cast:
George Eads (CSI)
AnnaLynne McCord (90210, Officer Down, Scorned)
Stephen Lang (Avatar, Don't Breathe, In The Blood)
Ted Levine (Shutter Island, The Silence of the Lambs, American Gangster, The Bridge)
Steven Seagal (Under Siege, A Dangerous Man, Executive Decision)
Vinnie Jones (Snatch, Hijacked, X-Men: The Last Stand)
Tia Carrere (True Lies)
Fiona Dourif (The Messenger, The Master)


Year: 2014





A Première TV Distribution Release
SYNOPSIS
A professional poker player, Jack Daniel (George Eads), gets mixed up with the underworld when he takes a wager proposed by Duffy (Stephen Lang), a mysterious gambler. In order to protect his family and himself, Jack must outwit Duffy's cunning brother Lewis (Ted Levine) and scheming wife May (AnnaLynne McCord) as each attempts to force him into murdering the other. Seeking help anywhere he can find it, Jack turns to Paulie Trunks (Steven Seagal), a loan shark looking to collect on Jack's poker debts, who might want to protect his investment.
REVIEWS
Flickeringmyth.com: The film looks great with some slick and colourful visuals, the acting is pretty good and the story set-up is fantastic and really draws you in.
Goodefficientbutchery.blogspot.nl: Seagal gets a terrific monologue about why he's called "Paulie Trunks" and has a few genuinely funny, possibly ad-libbed lines and he makes every moment count. Gutshot Straight has a lot of positives in its favor.
Devon-cornwall-film.co.uk: A nifty little B-movie neo-noir. He may be one of the least showy CSI cast members, but blank canvas George Eads is a surprisingly effective noir antihero, and shoulders the double-crossing narrative convincingly. Admittedly, the pace does slacken in the second half of the film, but Gutshot has enough worthwhile moments to keep you interested. Inessential, but strangely appealing.
DOWNLOADS
You need to be logged in to access this information.
.