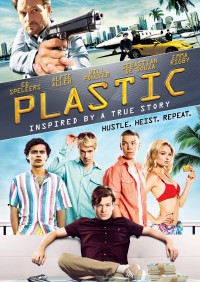 Release:
4 mei 2015

Director:
Julian Gilbey (A Lonely Place to Die, Rise Of The Footsoldier)


Cast:
Ed Speleers (Downton Abbey, Alice Through the Looking Glass, Eragon)
Will Poulter (The Revenant, We're the Millers, The Maze Runner)
Alfie Allen (Game of Thrones, Atonement, John Wick)
Emma Rigby (The Counselor, Once Upon a Time in Wonderland)
Sebastian De Souza (The Borgias)
Thomas Kretschmann (King Kong, Stalingrad, Der Untergang, Eichmann)


Year: 2014





A Première TV Distribution Release
Collectie: 24 van 30
SYNOPSIS
High octane from start to finish, PLASTIC is based on the incredible true story of a heist of one of Beverly Hills' top jewelry merchants. Brilliant college student Sam has the perfect credit card scam...until his crew robs the wrong man. Now they have two weeks to repay ruthless gangster Marcel US$2 million or they will be dead. Sam and his team devise a scheme to clear their debt by heading to Miami to poach enough cash and merchandise. But they come up short. So Sam and his gang set their sights on a daring jewelry heist that could make them hugely wealthy for life. Their plan turns sour, however, when the team members start turning on each other. Now it's up to Sam to finish the brazen heist and turn the tables on Marcel before they all go down.
REVIEWS
Critics.associated.com: A great action film with some genuine comedy to it, and yet another opportunity to see Alfie Allen playing a heartless backstabber, Plastic exceeds the expectations.
Entertainment.ie: Gibley, who impressed with the dark A Lonely Place To Die, does rally the troops for the final half hour.
Britflicks.com: High octane thriller PLASTIC tells the story of intelligent and brazen Sam (Ed Speleers), who leads a ring of university students to become credit card thieves in order to augment their income. When 'Plastic' ends you'll most likely scratch your head as to how such a super, fantastical crime flew below you news radar. With stick on moustaches, beards and wigs, it's like 'Catch Me If You Can' flung into the internet and mobile phone age.
Dailystar.co.uk: GREAT performances and a witty script combine to make this one of the better British crime capers of recent years. Director Julian Gilbey (A Lonely Place To Die, Rise Of The Foot Soldier) has a lot of fun with way it's set up and he has a ball with it when it's being executed.The plot, which is supposedly based on a true story but plays out like an episode of Hustle, is deliciously twisty. But it's the clever dialogue and a dastardly turn from Allen that really makes it tick.
DOWNLOADS
You need to be logged in to access this information.
.