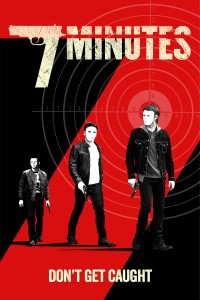 Release:
14 september 2015

Director:
Jay Martin


Cast:
Jason Ritter (Parenthood)
Kris Kristofferson (Blade, Blade II, Blade Trinity)
Leven Rambin (The Hunger Games, Percy Jackson: Sea of Monsters)
Zane Holtz (Percy Jackson & the Olympians: The Lightning Thief, The Perks of Being a Wallflower, Vampires Suck)
Luke Mitchell (Home and Away)


Year: 2014





A Première TV Distribution Release
SYNOPSIS
After becoming indebted to a psychopathic drug lord, three desperate young men are forced to commit a brazen robbery. What begins as a simple plan - "in and out in seven minutes" - quickly becomes a dangerous game of life and death. As each minute of the robbery unfolds, another twist is unveiled and the stakes are pushed higher and higher. In the final act, Sam's pregnant girlfriend Kate is kidnapped, escalating the situation even further and pressing our heroes to do whatever they can to make it out alive.
REVIEWS
Hollywoodreporter.com: Veteran music video director Jay Martin makes a highly impressive feature debut with his engrossing crime drama about a trio of desperate young men committing an ill-fated robbery. Featuring intricate, non-linear storytelling and an uncommon emotional pungency, 7 Minutes is a taut, tightly controlled exercise that should spell bigger and better things for its tyro director/screenwriter. 7 Minutes is gripping from start to finish.
Nytimes.com: 7 Minutes knows exactly what it is: a directorial calling card to the Quentin Tarantino school of blood-bath cinema. Colorful peripheral characters include Brandi (Mariel Neto), a promiscuous barfly who seduces Mike, and Jerome (Brandon Hardesty), a blubbery policeman who pines for her. In one of the movie's meanest touches, Jerome takes off his shirt, inspects his torso in a mirror, and screams in horrified despair. This film is a nasty piece of work.
Pastemagazine.com: Martin's attention to visuals comes from his years as a storyboarder and music video director (Death Cab for Cutie, Nas, Colbie Caillat). He knows his strengths, and his derivative debut is crafted with the methodical finesse and sophisticated composition of someone who prays at the style altars of Derek Cianfrance and Cary Fukunaga. 7 Minutes is a slick ride through a sexy cultural wasteland.
LATimes.com: Martin keeps the action, which includes bits of bone-crunching violence, moving apace with solid atmospherics and credible tough-guy dialogue and attitude.
Flyckeringmyth.com: A strong début feature from writer/director Martin, 7 Minutes goes beyond the conventional bank heist drama to provide a provocative and memorable visual experience. 4*.
Thestar.com: Writer-director Jay Martin's 7 Minutes puts an entertaining spin on the heist movie with a fast-moving drama that flits from past to present during a bank job. A solid score and tight camerawork shows Martin's background as a music video director translates well to big-screen work.
Awardscircuit.com: A solid calling card for writer/director Jay Martin.
Wearemoviegeeks.com: From the moment the three amateur crooks come busting through the door wearing blank, white Halloween masks (which may or may not be a nod to Eyes Without a Face) waving guns they have no intention of using to the final showdown, 7 MINUTES is a remarkable piece of work. I am impressed; I have to give 7 MINUTES at least 4 stars out of 5.
Forcesofgeek.com: A surprisingly tight, entertaining heist film.
Waytooindie.com: A fun romp for film fans who just can't get enough of watching bumbling criminals struggle to successfully commit a crime.
Moviebuzzers.com: Regardless of what your feelings on the ending might be, the road to get there is thrilling and makes 7 Minutes definitely worth a watch. You might think you've seen all that can be done with a heist film already, but you haven't seen something quite like this yet.
Shuffleonline.net: 7 Minutes is not so much a whodunnit as it is a "whydunnit." It is stylish, intelligent and entertaining.
DOWNLOADS
You need to be logged in to access this information.
.