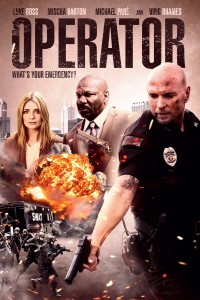 Release:
10 november 2015

Director:
Amariah and Obin Olson


Cast:
Luke Goss (Hellboy II, Blade II, Death Race II, Blood Out)
Mischa Barton (The Sixth Sense, The O.C, Notting Hill)
Ving Rhames (Pulp Fiction, Mission Impossible III, Dawn of the Dead)
Michael Paré (The Philadelphia Experiment, The Lincoln Lawyer, The Virgin Suicides)
Walter Hendrix III (Identity Thief, Selma)


Genre:
Action


Year: 2015





A Première TV Distribution Release
SYNOPSIS
When the daughter of veteran 911 call center operator Pamela (Mischa Barton), and her estranged husband Jeremy (Luke Goss), a Senior Police Officer, is kidnapped and held hostage, they are left desperate, with no choice but to follow the kidnapper's rules: send messages through dispatch for all police and fire units to scatter to remote locations throughout the city where they are met with chaos.
Not knowing who or why, the one thing they do know is if they fail to discreetly collaborate with one another – they will be solely responsible for facilitating the biggest crime in the city's history. Now they must race against the clock to make the choice of their lives – save the city – or save their daughter.
REVIEWS
Nog nergens gereleased dus nog geen reviews beschikbaar.
DOWNLOADS
You need to be logged in to access this information.
.