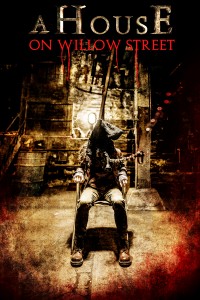 Release:
24 maart 2017

Director:
Alastair Orr


Cast:
Carlyn Burchell (Bomb Girls)
Sharni Vinson (Step Up, Bait)
Gustav Gerdener
Zino Ventura
Steven John Ward


Year: 2016





A Première TV Distribution Release
SYNOPSIS
Roguish kidnappers devise a plan to abduct the daughter of a wealthy diamond distributor. When they have her locked up in their hideout, they realize she's been possessed by a sinister demon. The kidnappers are forced to bargain for their souls and deal with their personal demons as they appear in physical form inside the house.
REVIEWS
Britflicks.com: Fortunately, From A House On Willow Street does have great looking set pieces. They showcase beautifully the fantastic visual effects of George Webster and computer generated wizardry of Derik van den Berg. Equally, Director Alastair Orr delivers a few frights and confidently captures the mania and fear.
Eyeforfilm.co.uk: There's a lot more visceral horror here than in the average supposedly gruesome possession film, so it works well enough for a Friday night thrill.
Horrocultfilms.co.uk: It's visually impressive, has some strong set pieces and the pacing's fairly good.
Projectedfigures.com: There is much fun to be had with its po-faced silliness and macabre maximalism.
Wyliewrites.com: From a House on Willow Street has some amazing makeup work, one of the best posters of any film at the Toronto After Dark Film Festival, and the film includes the most clever scare in a horror in recent years. The film also utilizes chiaroscuro effects to great value.
Dreadcentral.com: A good setup, a majority of solid characters (and cast) and some balls-out demon action in the final stretch manages to ensure From a House on Willow Street provides enough entertainment to see you through to the end.
DOWNLOADS
You need to be logged in to access this information.
.