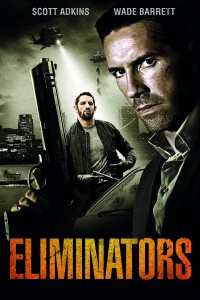 Release:
19 december 2016

Director:
James Nunn


Cast:
Scott Adkins (Dr. Strange, Grimsby, The Bourne Ultimatum, The Expendables 2)
Stu Bennett a.k.a Wade Barrett (WWE Main Event)
Daniel Caltagirone (Lara Croft Tomb Raider: The Cradle of Life)
James Cosmo (Game of Thrones, The Chronicles of Narnia)
Mem Ferda (Miss You Already, The Devil's Double)
Ty Glaser
Olivia Mace


Genre:
Action


Year: 2016





A Première TV Distribution Release
SYNOPSIS
From WWE Studios, Martin Parker (Scott Adkins), a highly trained former DEA agent, is hiding in the witness protection program in London with his young daughter, Carly. His world is turned upside down when a group of thugs break into his home looking for hidden contraband.
Parker is forced to kill the intruders, which exposes his true identity to the criminal underworld, including mob boss, Chris Cooper, who is Parker's arch-enemy as well as ex-father-in-law. Cooper sends his top assassin, Bishop (WWE Superstar Wade Barrett), to kill Parker, while Cooper tracks down Parker's daughter. Parker, now on the run, must defeat Bishop while simultaneously trying to keep his daughter out of the deadly clutches of her grandfather.
REVIEWS
Blu-ray.com: Scott Adkins and Wade Barrett perform admirably, straightforward, largely, but carrying themselves and their characters satisfactorily well. Recommended.
Bobafett1138: Really one that's well worth your time.
Bulletproofaction.com: Scott Adkins delivered another top notch performance and added to his already impressive filmography of action movies.
Goodefficientbutchery.blogspot.nl: Adkins brings his A-game to this and once again shows he's ready for bigger things.
Roguecinema.com: the plot isn't the drawing point of these films, it's the action scenes, and Eliminators does deliver the goods here.
Theschlockpit.com"Eliminators is resolutely British, and with some awesome sequences set within the nation's capital city, like a couple of cool car chases and an immense bit of cable car combat, London is close to being the star of the picture. Adkins, as always, put his soul into this.
DOWNLOADS
You need to be logged in to access this information.
.