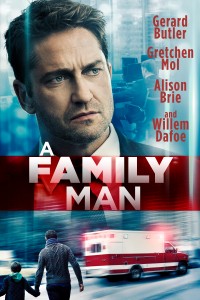 Release:
21 september 2017

Director:
Mark Williams


Cast:
Gerard Butler (London Has Fallen, 300, The Bounty Hunter)
Gretchen Mol (Manchester By The Sea, Boardwalk Empire)
Willem Dafoe (The Great Wall, The Grand Budapest Hotel, A Most Wanted Man)
Alison Brie (How to Be Single, Mad Men)
Alfred Molina (The Da Vinci Code, Prince of Persia)


Genre:
Drama


Year: 2016





A Première TV Distribution Release
SYNOPSIS
Dane Jensen (Gerard Butler) is a driven Chicago-based headhunter, working at a cut-throat job placement firm. When Dane's boss (Willem Dafoe) announces his retirement, he pits Dane against Lynn Wilson (Alison Brie), Dane's equally driven but polar-opposite rival at the firm, in a battle for control over the company. As Dane gears up for the professional battle of his life, he learns his 10-year-old son Ryan (Max Jenkins) is diagnosed with an illness. Suddenly, Dane is pulled between achieving his professional dream and his family, who need him now more than ever.
REVIEWS
TheHollywoodNews.com: A really rather enjoyable morality tale from debut director Mark Williams, with some brilliant performances and some wonderfully touching moments.
Variety.com: slickly executed.
TIFF.net: The film pulses with the thrill of big money and cutthroat career maneuvering, but its heart is in a very different realm. The film is ultimately concerned with domestic stability in crisis, and with the complex question of what really matters in life. The Headhunter's Calling beautifully illustrates how nearly losing everything can redefine what it means to have it all.
DOWNLOADS
You need to be logged in to access this information.
.