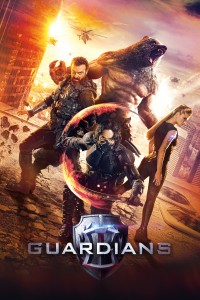 Release:
15 juni 2017

Director:
Sarik Andreasyan


Year: 2017





A Première TV Distribution & Source 1 Media Release
SYNOPSIS
During the Cold War, an organization called "Patriot" created a super-hero squad, which includes members of multiple soviet republics. For years, the heroes had to hide their identities, but in hard times they must show themselves again.
REVIEWS
Cinemagazine.nl: Evenwel is dit een interessante film. 'Guardians' hint nadrukkelijk naar de hoogtijdagen van de Sovjet-Unie. Een tijd van voor het uiteenvallen van Groot-Rusland. Toen het land, inclusief de later afvallige staten, nog één geheel vormde. Kortom, een land waar de huidige president Poetin graag van droomt.
Preview Magazine: Als je een beetje van superhelden houdt, dan is dit een geweldige kijkervaring. Wat dacht je van een held met twee kromme messen die supersnel een auto doormidden hakt, een man-beer met een minigun, de knapste vrouw uit Rusland die onzichtbaar kan worden (en ook nog eens goede borsjt kan koken!) en een soort Magneto die geen metaal, maar rotsen kan beïnvloeden (en dat doet met een enorme zweep)? Het levert heerlijke actiescènes op.
ScreenAnarchy.com: The film is a lot of fun indeed. No expense has been spared and there are a number of impressive setpieces, especially when the supervillain starts building a super-antenna in Moscow by stacking several landmark towers on top of each other.
DOWNLOADS
You need to be logged in to access this information.
.