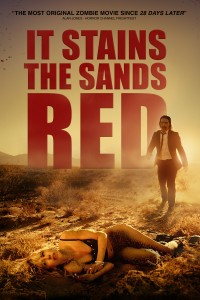 Release:
9 november 2017

Director:
Colin Minihan (Grave Encounters 1 & 2)


Cast:
Brittany Allen (Jigsaw, Bomb Girls, Dead Before Dawn)
Juan Riedinger (Narcos, Grave Encounters)
Merwin Mondesir (Grave Encounters)


Genre:
Horror


Year: 2017





A Première TV Distribution Release
SYNOPSIS
In the throes of a zombie apocalypse, Molly – a troubled woman from Las Vegas with a dark past – finds herself stranded in the desert with a lone ravenous zombie on her tail. At first, she's easily able to outpace her undead pursuer, but things quickly become a nightmare when she realizes the zombie doesn't need to ever stop and rest. Running low on supplies and beat down by the harsh environment, Molly will have to summon the strength she never knew she had to ultimately face both the zombie and the demons that have chased her all her life.
From the creators of Grave Encounters and Extraterrestrial, IT STAINS THE SANDS RED is an action-packed apocalyptic thriller where only the strongest-willed survive.
REVIEWS
Cinemagazine.nl: Het middendeel van de film, waarin we Molly leren kennen door haar gesprekken met Smalls en ontroerende flashbacks naar het leven dat ze ooit had, is verreweg het sterkst. Naar het einde toe nemen de actiescènes de overhand en laat de ontknoping zich raden. Het is wel een einde dat je deze hoofdpersoon gunt. Aanrader!
HeYuGuys.com: Thrilling, fascinating, groundbreaking. It's a remarkable work for film fans in general, as well as being one of the greatest zombie movies ever made.
SciFiNow.co.uk: A mannered mix of the odd-couple corpse comedy of Swiss Army Man (2016) and the arid maternity ordeal of Monolith (2016), It Stains The Sand Red offers a fresh feminist spin on well-trodden tropes, only reverting to a more conventional kickass routine in its wisely abbreviated final act.
Bloody-disgusting.com: Brittany Allen carries the entire film with aplomb, and her performance is up there with the best the genre has had to offer in recent years. Her transformation from fractured party girl to strong, independent mother is fiercely brilliant and believable. At this moment in time, It Stains the Sands Red is the best zombie film since Shaun of the Dead.
Glasgowlive.co.uk: Allen is incredible as she displays layers and emotions we don't normally expect from characters who tend to simply be fodder for the walking dead. Director Minihan (Grave Encounters, Extraterrestrial) has performed a masterstroke with It Stains the Sands Red. His direction, coupled with Allen's performance, makes for a winning combination that puts a beating heart in the chest of the undead.
Nerdly.co.uk: A taught, tense (and funny) reinvigoration of the zombie genre, It Stains the Sands Red honestlydeserves to be held in as high a regard as Romero's original zombie trilogy. **** 4/5
Horror Channel FrightFest: Smart, sharp, savage and unexpectedly moving. The most original zombie movie since 28 Days Later. One of the top 10 films of 2017!
Horrorfreaknews.com: With a tremendously watchable and heartfelt lead performance, a wholly unique and unexpected central relationship and a damn good sense of humor (the tire/raft reveal) – It Stains the Sands Red is original and endearing. A shining example that there's something new to be culled from the genre created by George A. Romero almost 50 years ago.
AWARDS
Sitges 2016: Midnight X-Treme
DOWNLOADS
You need to be logged in to access this information.
.