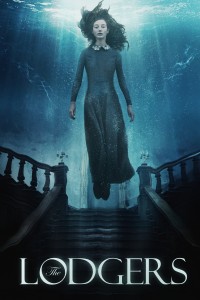 Release:
8 november 2018

Director:
Brian O'Malley


Cast:
Bill Milner (Dunkirk, X: First Class, Locke)
Charlotte Vega (American Assassin, Another Me)
David Bradley (Harry Potter, Game of Thrones)
Eugene Simon (Game of Thrones, Ben Hur)


Genre:
Horror


Year: 2017





A Première TV Distribution Release
SYNOPSIS
Set in 1920's Ireland, this gothic horror story centers on brother and sister twins who are forced to stay in their estate due to a secret family curse, which took the life of their parents. But when a young man falls in love with the sister, his attempt to free her of the curse creates a deadly chain reaction.
REVIEWS
IMAGINE Film Festival: The Lodgers is een beeldschone aanvulling op de canon van gothic horrorfilms.
Variety.com: Enchantingly gloomy and lustrous, this lushly staged costume chiller is a fragrant beauty indeed.
Cineuropa.org: O'Malley creates a lurid atmosphere by using cinematographer Richard Kendrick's gentle camera movements and Tony Kearns' measured editing to maximum effect, and even elevating the elements of the production design, such as the house and the menacing water, to the level of lively characters. The old, beautiful and broken mansion, with all its creaking noises and its huge wooden staircase, is allegedly a real-life haunted house, while the water the ghostly creatures live in, emerging from down below and rushing up to the ceiling in drops, looks impressive in CGI, making The Lodgers a must-see for fans of gothic horror cinema.
Comingsoon.net: here hasn't been a more effective, disturbing and sensorially pleasing film of this kind since Alejandro Amenabar's The Others and, like that masterpiece, O'Malley's artful, lurid and meticulously orchestrated exercise in atmosphere, pretty misery and dread seeps deep under your skin. And it stays there. For keeps.
Digitaljournal.com: 'The Lodgers' is a chilling, gothic tale of co-dependent twins imprisoned by a family curse.
Dreadcentral.com: Delicately crafted, The Lodgers is a richly woven tapestry of classically inspired gothic horror. Smart, scary, and undeniably beautiful, it will no doubt be considered one of the pinnacles of its genre.
Thefilmstage.com: So we let the atmospheric mood draw us into the horror as mystery makes way towards scares. The whole looks gorgeous from the macabre carcasses of long-dead pets to the image of two bodies silently floating above the lake as O'Malley holds our attention with the rising malevolence executed by Milner and inspiring desire to take hold of her destiny imbued by Vega. That which frightens them is left shrouded in secrecy beyond the connection to their blood and the result their disobedience secures.
Blu-ray.com: The Lodgers presents some strong visual filmmaking from O'Malley, who has a distinct battle plan to present the enigmatic threat, creating some striking imagery along the way (with cinematographer Richard Kendrick) that increases eeriness, delivering satisfying payoff for troubling events. Turpin contributes some mental illness to lubricate the terror, with the twins adding to a long line of family rituals that contribute to their hellish existence. Mystery is present, along with Hammer-style gothic environments and numerous threats to the safety of the lead characters, and once The Lodgers finally gets going, there's much to appreciate dramatically and cinematically.
Eyeforfilm.co.uk: One of the better Gothic films of recent years, The Lodgers blends beauty and creepiness sublimely. It will delight genre fans and deliver pleasing chills to others.
AWARDS
Molins de Rei Horror Film Festival 2017 - Jury Prize Best Film
FANCINE Festival de Cine Fantastico de la Universidad de Malaga 2017 - Best Actress
FANCINE Festival de Cine Fantastico de la Universidad de Malaga 2017 - Best Special Effects
DOWNLOADS
You need to be logged in to access this information.
.