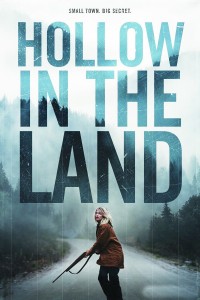 Release:
1 maart 2018

Director:
Scooter Corkle


Cast:
Dianna Agron (Glee, I Am Number Four)
Rachelle Lefevre (Under The Dome, Twilight Saga, White House Down)
Shawn Ashmore (X-Men films, The Following)
Jared Abrahamson


Genre:
Thriller


Year: 2017





A Première TV Distribution Release
SYNOPSIS
While the notorious Keith Miller remains locked behind bars for murder, his family is paying the price of a tainted name. High in these mountains, bad blood runs deep.
A year after Keith's crime, a body is found in a nearby trailer park. Keith's son, Brandon, goes missing and becomes suspect number one. His headstrong sister Alison decides to take things into her own hands and track down her brother to clear his name before the cops get to him.
Can she prove her brother's innocence when all the evidence suggests otherwise? The harder she looks, the more people turn up dead. And soon Alison becomes a suspect herself.
In a town tucked away between a mountain range, secrets get buried deep. And if she's not careful, she'll get buried with them...
REVIEWS
Screendependent.be: Hollow in the Land

is wellicht een titel waar je nog nooit van hoorde en dat is ongelooflijk jammer. Filmdistributeur Source 1 Media brengt met deze kleine maar verrassende thriller opnieuw een uitstekend staaltje cinema uit. Het verhaal is spannend, zit goed in elkaar en ook de personages zijn perfect uitgewerkt.

NYTimes.com: Alison closely resembles Jennifer Lawrence's character in Winter's Bone, another self-sufficient young woman whose family and community turn against her. This movie is not as tense, but it gets close thanks to Ms. Agron's resolute performance and the movie's hostile small town setting.
Hollywoodreporter.com: Hollow in the Land traffics in familiar rural thriller territory, but it features an excellent performance from its lead actress and a strong atmosphere of moody tension courtesy of its writer/director.
LATimes.com: Like Winter's Bone, the film is at its best when it follows its heroine closely, letting the audience understand more about her life with each step closer to danger.
Andersonvision.com: Hollow in the Land deserves to be seen by many people.
Cinemarter.com: A good mystery movie with a solid leading performance.
J.B. Spins: Its grit and guts are compelling. Norm Li's coldly severe cinematography dramatically accentuates Miller's social alienation and the physical isolation of the surrounding landscape.
DOWNLOADS
You need to be logged in to access this information.
.