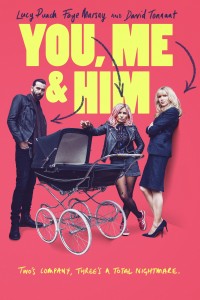 Release:
1 februari 2018

Director:
Daisy Aitkens


Cast:
David Tennant (Broadchurch, Doctor Who, Harry Potter And The Goblet Of Fire)
Lucy Punch (Into the Woods, Bad Teacher, Dinner for Schmucks, A Good Old Fashioned Orgy)
Faye Marsay (Game of Thrones, Pride)
Simon Bird (The Inbetweeners, Friday Night Dinner)
Gemma Jones (Bridget Jones Trilogy, Veep)


Genre:
Romantic Comedy


Year: 2017





A Première TV Distribution Release
SYNOPSIS
YOU, ME AND HIM is a witty romantic comedy set in middle class England about two female lovers, one a career driven lawyer (Lucy Punch) and the other a fun loving, pot smoking layabout (Faye Marsay); and their annoying Casanova neighbour (David Tennant).  While neither woman ever wanted children, both end up pregnant, creating conflicts that cause each to re-examine their outlook on life and the relationship. YOU, ME AND HIM brings humour, controversy, tears and surprises that will keep audiences in fits of laughter from the opening credits to the final curtain.
REVIEWS
Cinemagazine.nl: Wat overigens ook heel verrassend is, is dat 'You, Me and Him' ook nog weet te raken op verschillende momenten. Dit valt wederom te wijten aan sterk spel, vooral van Faye Marsay die haar stoere en vrije karakter ook een zachte en emotionele kant weet te geven. Hele review hier.
cgiii.com: You, Me & Him jogs on at a sprightly pace with laughs aplenty and will, undoubtedly, warm the cockles of your heart. David Tennant...do more comedy! Daisy Aitkens...write and direct more films!
eyeforfilm.com.uk: an honest portrait of the complexity of real life relationships as many people experience them – something mainstream cinema needs more of.
Midlandmovies.com: The film is overall lightweight but takes a meaningful look at the serious issues of LGBT love (not a "large sandwich" as the film jokes) and the multifaceted intricacies of modern relationships. With three wonderful showings from Punch, Marsay and Tennant, the film is an enjoyable romp with plenty of laughs without forgetting the affectionate support needed for mothers, fathers and partners.
TheHollywoodNews.xom: You, Me and Him is quite the delight; it's hilarious and charmingly executed with enough heart and passion behind its story to keep you smiling and keep you entertained for its runtime.
DOWNLOADS
You need to be logged in to access this information.
.