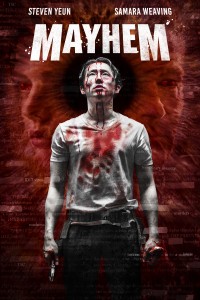 Release:
26 april 2018

Regie:
Joe Lynch


Cast:
Steven Yeun (The Walking Dead, Okja)
Samara Weaving (Three Billboards Outside Ebbing, Missouri , Home and Away, Bad Girl)
Steven Brand (Hellraiser: Revelations)


Jaar: 2017





A Première TV Distribution Release
SYNOPSIS
Je wordt genaaid door een collega en door je corrupte bazen zonder pardon op de keien gezet. Maar je haalt zelfs de keien niet. Bedrijfsadvocaat Derek Cho (Steven Yeun – The Walking Dead), kijkt in de lobby beteuterd toe hoe de politie de boel hermetisch afsluit. Quarantaine. In de kathedraal van glas en staal waart een virus rond dat alle remmingen wegneemt. Terwijl er rondom hem uitbundig gevochten, geneukt en "ontstrest" wordt, maakt Derek van de nood een deugd. Lekker besmet en tot de tanden gewapend, zoekt hij het hogerop, tot aan het kantoor van zijn gewetenloze bazen. In zijn zog: Melanie Cross (Samara Weaving – Monster Trucks, Ash vs Evil Dead), een cliënte die ook nog een eitje met Corporate America te pellen heeft. En hoe hoger de toren, hoe doller de moorden...
Oog om oog, tand om tand, zelden was het toepasselijker dan in deze ultragewelddadige, maar ook knotsgekke horrorthriller van Joe Lynch (Wrong Turn 2: Dead End, Knights of Badassdom). Mayhem is Grand-Guignol voor gevorderden, en gooide hoge ogen op het SXSW-festival.
REVIEWS
Variety.com: Equal parts corporate satire and violent melodrama, this indie with attitude is an exuberantly gonzo thriller.
RogerEbert.com: A stylish, smart, propulsive gore-fest set in a corporate America that takes no prisoners. It's like "Office Space" if Michael Bolton went on a murderous spree with a nail gun, playing on workplace stress instead of pure id, and it has a violent momentum that's hard to deny, well-directed by Lynch.
Scary Epidemic: Very reminiscent from horror movies like The Belko Experiment and Severance, its concept is filled with lots of dry humor and plenty of gore. Steven Yeun is fantastic in the lead role, and proves that he can carry a movie without an entire cast breathing down his neck (looking at you Walking Dead). Full review here.
Horror-movies.ca: You MUST watch "Mayhem" when it is available. This violent masterpiece has little to no flaws, is terrifically entertaining, for various reasons, from beginning to end, and is definitely the best film of the 2017 edition of Fantasia. I reward it with a perfect 5 stars out of 5.
Cinemaslasher.com: hanks to its likable protagonists, relatable themes, sharp editing, synthy score, and incredible soundtrack of licensed music, Mayhem is an absolute blast and should not be missed by anyone with an affinity for intense genre cinema. This one is an absolute blast that deserves the highest of recommendations.
Culturecypt.com: frenzied fun and vicious violence.
Cutprinfilm.com: Lynch stages impalings and hammerings and nail-gunnings for maximum impact. He makes stunning use of sound to give each event its own savage feel. And he escalates the bloodletting in creative ways. But there's an odd sort of righteousness about it all. Yeun and Weaving are responsible for that. The pair have a palpable, natural chemistry that brings a much needed humanity to the bloody business at hand. Their quippy back-and-forth would be right at home in a romantic comedy if they weren't, you know, mercilessly killing lots of people all the way.
Modernhorrors.com: Lynch's latest feature is a true crowd pleaser; it's a God damn blast. It's vicious and funny, and wildly entertaining.
Thewolfmancometh: As a filmmaker, Lynch has fully embraced his enthusiasm and passion for genre cinema while also flexing his comedic chops, all thanks to the tour-de-force performance of his new muse, Steven Yeun.
Wegotthiscovered.com: Mayhem is a wonderfully violent middle finger to corporate culture, gleeful in its desire to redecorate cubicles with red blood splatters.
AWARDS
Second place audience award Razor Reel 2017.
Chattanooga Film Festival 2017 : Audience Award
DOWNLOADS
Je moet ingelogd zijn om deze informatie te bekijken.
.