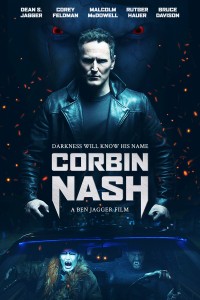 Release:
7 juni 2018

Director:
Ben Jagger


Cast:
Dean S. Jagger (Game of Thrones)
Rutger Hauer (Sin City, Blade Runner, Valerian and the City of a Thousand Planets)
Corey Feldman (The Lost Boys, The Goonies, Stand By Me)
Malcolm McDowell (The Artist, A Clockwork Orange, Halloween)


Year: 2018





A Première TV Distribution Release
SYNOPSIS
Having lost his family as an infant, when rogue police detective, CORBIN NASH is confronted by a MYSTERIOUS STRANGER and told his parent's death was no accident; he transfers from NYC to LA driven to find his parent's true killers.
Scouring the City of Angels for the truth, Corbin stumbles upon a MONSTROUS DUO trafficking the flesh and blood of this City's lost souls. Too close, abducted by these Demons, Corbin must fight his way through an underground world of torment, but all's just a game, Corbin a plaything as his abductors know the dangerous truth of his origin.
Confronted by the almighty DRAKE, Corbin realizes a world long believed to be a myth is in fact a horrifying reality. Upon discovering he's the last surviving member of the Nash family, a historic family of Demon hunters, he is savagely murdered and left in the gutters of this God forsaken City for dead.
Saved by a pure soul, MACY who recognizes him, with her own hidden agenda, under the guidance of the mysterious BLIND PROPHET, she nurses him through his Hellish ordeal… Feeding him her own blood, in a bizarre twist of fate, Corbin becomes what his family fought to vanquish and destroy; Reborn the ultimate killer.
Embracing his legacy, vowing vengeance, Corbin seeks to destroy both the Demon's responsible for his families murder and for those that made him what he is today. Echoed through American history, the Nash Legacy was famous, but the name Corbin Nash, Demon Hunter is soon to become infamous.
REVIEWS
Crypticrock.com: Demon/vampire movies have become a dime a dozen. It is easy to become lost in the genre. In an effort to stand out, a lot of films over think the evil and end up losing the fear and power that vampires should capture. Corbin Nash is not one of those. It succeeds in giving vampires back their power and they have become scary again. Dialogue, characters, and casting all align perfectly to create an atmosphere of paranoia and fear when the sun goes down. It is for these reasons that CrypticRock humbly gives Corbin Nash 4.5 out of 5 stars.
Spoilerfreemoviesleuth: Fans of vampire cinema will find much to adore, there are many memorable and dangerous directorial choices that make the film worthy of a viewing.
Horrorfuel.com: The best vampire film we've seen in years. This is one dark, action-filled film you're not going to want to miss.
Modernhorrors.com: Has enough of the genre's most beloved in this film to make the metaphorical panties wet of any horror nerd who still carries a torch for nostalgia. Rutger Hauer, Malcom McDowell, and the one and only Corey Feldman, to name drop a few of the "Hall Of Famers" from the top billed cast.
Nerdly.co.uk: Thanks to a well-developed story and exceptional performances from the cast, this is a film which is great fun to watch.
Pophorror.com: Appreciable performances and action to keep you entertained. This is a dark, gritty crime noir film.
Sinfulcelluloid.com: It was bloody, gory, sexual, it also had a great background story to Nash's character, everything was about this film was done attractively to grab the viewers attention.
Voicesfromthebalcony.com: Belonging as much to the action genre as horror, CORBIN NASH delivers several good fight scenes. Vince and Queenie make good foes for Nash and Feldman as a cross-dressing bloodsucker has to be seen to be believed.
DOWNLOADS
You need to be logged in to access this information.
.