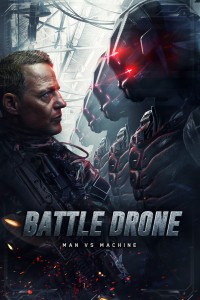 Release:
5 juli 2018

Director:
Mitch Gould


Cast:
Louis Mandylor (My Big Fat Greek Wedding 1 & 2, One in the Chamber)
Dominique Swain (Face/Off, Lolita)
Michael Paré (The Philadelphia Experiment, The Lincoln Lawyer, The Virgin Suicides)
Natassia Malthe (Lake Placid, Percy Jackson & the Olympians: The Lightning Thief)


Genre:
Action


Year: 2018





A Première TV Distribution Release
SYNOPSIS
In the vein of blockbusters THE EXPENDABLES and THE A-TEAM, a group of highly skilled mercenaries find themselves betrayed by the U.S. Government, and are forced to fight their way out of an ambush by a new, lethal humanoid drone. Get ready for some intense action!
REVIEWS
Action-flix.com: Mandylor is in true action hero mode. Battle Drone is an epic indie action blast!
Bulletproofaction.com: Battle Drone did not have the star power of The Expendables or even some of the other movies inspired by the Stallone franchise, but what Battle Drone did have was plenty of video game style action jammed into the 93 minute runtime. I thought the cast had good chemistry and the movie progressed at an entertaining pace. Battle Drone also had a satisfying ending that left the door open for Rekker and company to see more action in the future.
Filmcombatsyndicate.blogspot.nl: For Battle Drone, Gould serves a consistent, solid leading man in Mandylor along with Parè and actress Swain. It's damn good fun!
DOWNLOADS
You need to be logged in to access this information.
.