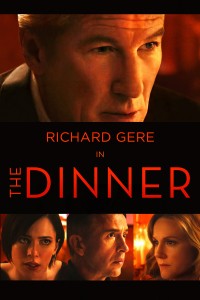 Release:
16 augustus 2018

Director:
Oren Moverman (The Messenger, Rampart)


Cast:
Richard Gere (An Officer and a Gentleman, Pretty Woman, Arbitrage, The Second Best Exotic Marigold Hotel )
Steve Coogan (The Trip to Spain, The Other Guys)
Laura Linney (Nocturnal Animals, Sully)
Rebecca Hall (The Town, Frost/Nixon)
Chloë Sevigny (Antibirth, The Snowman)


Year: 2017




Collectie: 1 van 2
SYNOPSIS
When Stan Lohman (Richard Gere), a popular congressman running for governor, invites his troubled younger brother Paul (Steve Coogan) and his wife Claire (Laura Linney) to join him and his wife Katelyn (Rebecca Hall) for dinner at one of the town's most fashionable restaurants, the stage is set for a tense night. While Stan and Paul have been estranged since childhood, their 16-year- old sons are friends, and the two of them have committed a horrible crime that has shocked the country. While their sons' identities have not yet been discovered and may never be, their parents must now decide what action to take. As the night proceeds, beliefs about the true natures of the four people at the table are upended, relationships shatter, and each person reveals just how far they are willing to go to protect those they love.
REVIEWS
Variety.com: Moverman balances the potential for staginess with his flowing cinematic bravura; he keeps surprising you, and he gives the drama a dash of poison elegance.
The Playlist.net: This is a film that glories in juxtaposition, as exchanges of bestial ferocity hiss back and forth in an excruciatingly elegant destination restaurant, and as poisonously feral barbs are traded across a table laden with elaborately effete hors d'oeuvres.
TheWrap.com: At once a darkly comic social satire, a pitch-black moral thriller and an earnest plea to recognize mental illness, The Dinner is a seven-layer dip overflowing with compelling individual ingredients.
Urbancinefile.com.au: All the performances are astonishing. This is an outstanding piece of cinema, provocative and insightful, filled with metaphor and the recognisable flaws of humanity and the world today, yet far from bitter.
Blu-ray.com: The film delivers on both emotional and perhaps especially moral grounds, exposing the traumas experienced by a quartet who can't even decide what the right thing to do is, let alone doing it.
TheIndependentCritic.com: The Dinner is a riveting adult drama that will have you replaying the film over and over again in your mind as you search for the meaning of it all and come face-to-face with the uncomfortable truths.
WeGotThisCovered.com: An imperfect but fascinating film, The Dinner's stellar cast delivers a deeply troubling and psychologically complex treatment of class and family.
DOWNLOADS
You need to be logged in to access this information.
.