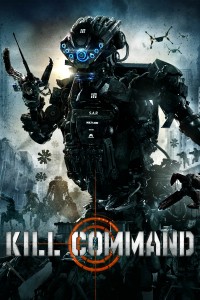 Release:
23 augustus 2018

Director:
Steven Gomez


Cast:
Vanessa Kirby (Me Before You, Mission Impossible - Fallout)
David Ajala (Furious 6, The Dark Knight)
Mike Noble (Jack Ryan: Shadow Recruit)
Bentley Kalu (American Assassin)
Tom McKay (The Lost Legion)


Genre:
Action


Year: 2016




SYNOPSIS
Set in a near future, technology-reliant society is creating killing machines. Against this backdrop an elite Marine unit is helicoptered in to a remote, off-the-grid island training facility, to test the capabilities of the latest prototypes. They set up positions and make short work of the AI targets in the killing field. However, overnight their sentry goes missing, and when they find the corpse the next day they find themselves in the killing field and the tables have turned. The Marines fight to survive on an island that is overrun by an enemy intelligence far beyond their predecessors, which learns from their every move.
REVIEWS
Avforums.com: It is impressive, particularly for the budget, and the AI creations are positively menacing as they stalk their human prey. Indeed, Kill Command does justice to all of the classics that it gleefully references, and the result is a surprisingly enjoyable indie gem.
ActingHour.com: 'Kill Command' is cult film in the making, an enthralling thrill-ride, that capably maintains the balance between action and philosophical explorations of how we view technology, how technology views us, and what it means to be human.
GamesRadar.com: Steven Gomez's sci-fi thriller comes on like the ultimate James Cameron homage and fortunately, the retro vibe extends to the storytelling, which is a brisk and well-judged balance. It's a promising debut; the director's background is in VFX and his low-budget creations outshine many blockbusters.
TheGuardian.com: Superior sci-fi action thriller.
TheHollywoodNews.com: A hugely creative, highly polished and truly solid action/ sci-fi. Highly recommended.
ScreenAnarchy.com: If you love military tech and killer robots the production design are top shelf.
RadioTimes.com: has a lot more going for it than many bloated Hollywood studio equivalents.
FlickeringMyth.com: an impressive first feature. The production design is slick and cool, borrowing colour palettes and influences from many classic sci-fi films to achieve a clean, cold look. The story, while simple, lends itself to great dramatic tension which is beautifully executed by the cast, and Gomez's VFX experience undoubtedly contributes to the flawless CG, which looks much better than a lot of recent big-budget releases.
BritFlicks.com: VFX whiz-kid Gomez succeeds where his peers often fail, and gives us an entertaining and exciting piece of future-tech gone wrong.
DOWNLOADS
You need to be logged in to access this information.
.