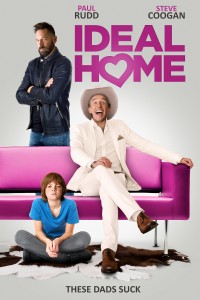 Release:
18 oktober 2018

Regie:
Andrew Fleming


Cast:
Steve Coogan (The Trip to Spain, The Other Guys)
Paul Rudd (Ant-Man, This is 40, Fun Mom Dinner)
Jack Gore (Problem Child)
Alison Pill (Milk, Hail Caesar!)
Jake McDorman (American Sniper, Live Free or Die Hard)


Genre:
Komedie


Jaar: 2018





A Première TV Distribution & Source 1 Media Release
SYNOPSIS
Een succesvol kookprogramma en feestjes voor de elite, maar ook willetjes en grilletjes en wrijvinkjes... Hoe dan ook staat het luxeleventje van homokoppel Erasmus (Steve Coogan -  The Trip to Spain, The Other Guys) en Paul (Paul Rudd – Ant-Man, This is 40) in schril contrast met dat van Erasmus' vervreemde biologische zoon Dale (Jake McDorman) en diens tienjarige zoontje Bill (Jack Gore). Wanneer de politie Dale inrekent, weet het pientere kereltje te ontsnappen. Gewapend met het adres van zijn grootvader, bezorgt hij Erasmus en Paul de verrassing van hun leven. Hoewel Paul niet blaakt van enthousiasme, besluiten ze zich toch over Bill te ontfermen. Erasmus en zijn kleinzoon groeien naar elkaar toe, maar hun band drijft een wig tussen zijn relatie met Paul. Tot overmaat van ramp komt Dale op vrije voeten en eist hij het hoederecht over zijn zoontje weer op … het ideale thuis, wat was dat ook alweer?
Ideal Home is een heerlijke komedie, vaak grof in de mond, maar met het hart steeds op de juiste plaats. Topkomieken Coogan en Rudd schitteren als het ruziënde koppel dat dringend aan een verrijking en herijking van zijn waarden en liefde toe is.
REVIEWS
Empireonline.com (****!): Coogan and Rudd work their asses off to make Erasmus and Paul the most memorable screen gay men since The Birdcage. It's caustic, authentic, and very, very funny.
Variety.com: A cozy duet of tit-for-tat bitchery.
Gay-Themed-Films.com: Fleming's film is a warm and fuzzy lighthearted comedy that successfully updates conventional depictions of queerness and family in a comedy film. A heartwarming closing montage of real-life LGBTIQ families also reminds us that it's time to update the universal notions of domesticity and re-define what makes a home 'ideal'.
Janksreviews.com: While somewhat unconventional, it takes no stretch of the imagination to see why there is so much love between Erasmus and Paul and how they can offer Bill the stability he desperately longs for. Families come in many shapes and forms, as is the case for this threesome. Ideal Home is a must-see film!
Popculture-y.com: Beware coming into this film looking for a romp of any kind. While there are jokes throughout the film, the best part of it are the moments of real human connection and real human folly between Steve Coogan, Paul Rudd and Jack Gore. Overall, a beautifully constructed film full of wonderful performances.
Screen-space.squarespace.com: Ideal Home represents the kind of quick-witted, meaningful writing that was once sought after by the big studios. Andrew Fleming's dialogue crackles and zings in the mouths of an appreciative cast, his scene structure and pacing skilful and refined.
Maketheswitch.com.au: Steve Coogan and Paul Rudd know how to deliver, whether it's scathing rebuttals or rip-snorting one-liners. A huge amount of fun, with some dark, real moments peppered throughout for a real kick. With just enough sweetness to balance the mixture out, this is a surprisingly endearing film.
DOWNLOADS
Je moet ingelogd zijn om deze informatie te bekijken.
.