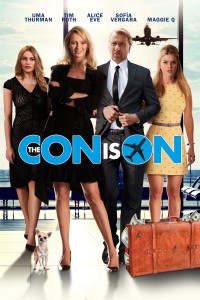 Release:
1 november 2018

Director:
James Oakley


Cast:
Uma Thurman (Kill Bill, Pulp Fiction, Percy Jackson & the Olympians)
Tim Roth (Reservoir Dogs, The Hateful Eight)
Stephen Fry (Gosford Park, V for Vendetta, A Bit of Fry and Laurie)
Sofia Vergara (Modern Family, Chef)
Maggie Q (Divergent, Nikita, Mission Impossible III )
Alice Eve (Star Trek Into Darkness, Men in Black 3)
Parker Posey (For Your Consideration, Superman Returns, The Oh in Ohio)


Year: 2017





A Première TV Distribution Release
SYNOPSIS
HARRIET (Thurman) and PETER FOX (Roth) are a pair of badly behaved British con-artists.  After they suffer a huge loss in poker to a psychotic gangster, IRINA (Maggie Q), they flee to Los Angeles to try and buy time until they can come up with the money.  They concoct a convoluted plan to steal a ring from Peter's rich ex-wife JACKIE (Alice Eve).  After several failed attempts and crazy shenanigans, the couple manages to evade Irina, fool Jackie, and get the ring.  The two sell the ring and decide to retire to Brazil and give up their life of crime.  However, as they board the plane, a very pricy diamond necklace around a passenger's neck gives them other ideas...
REVIEWS
LATimes.com: A stylish caper with enjoyably wry, martini-soaked dialogue and a terrific comedic turn by Uma Thurman as a glamorous British scam artist.
RogerEbert.com: Excellent cast. It's great to see Thurman in a movie star part again.
Flickeringmyth.com: While the characters are all over-the-top caper archetypes, the cast seems to be having the time of their lives. Tim Roth is trying his hardest to beat Gary Oldman's nicotine poisoning in Darkest Hour by drinking ALL the martinis and straight vodkas in the world, to the point where it seems of if he doesn't have a drink in his hand. He also shatters, drops, and otherwise breaks so many glasses I would not be surprised to hear their alcohol and glassware budget was comparable to the cocaine budget in Blues Brothers. Stephen Fry is a delight as usual, and he seems to be amused by all the other characters to really give a damn about the story.
Reeltalkreviews.com: Thurman (Kill Bill) oozes so much glamour playing her morality-challenged character that she holds our interest in all of her scenes. Plus, Maggie Q (Divergent) makes a very relentless villain.
Thatmomentin.com: Good work from Thurman and Roth, who both do well as curiously likable terrible people.
DOWNLOADS
You need to be logged in to access this information.
.