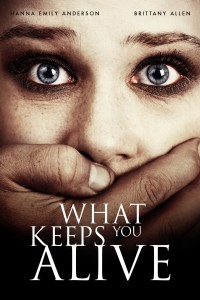 Release:
20 december 2018

Director:
Colin Minihan (Grave Encounters 1 & 2)


Cast:
Brittany Allen (Jigsaw, Bomb Girls, Dead Before Dawn)
Hannah Emily Anderson (Jigsaw)
Martha MacIsaac (Superbad, The Last House on the Left)
Joey Klein (Painless)


Year: 2018





A Première TV Distribution Release
SYNOPSIS
On the eve of their one year wedding anniversary, Jules and Jackie become embroiled in a merciless fight for their lives when they find themselves pitted against the most unexpected of adversaries: each other. As violence rains down upon their idyllic forest getaway, the women engage in a frenzied psychological and vicious battle that will test the very limits of their instinct to survive.
WHAT KEEPS YOU ALIVE is a knife to the throat of 21st century genre cinema, featuring the stars of 2017's reinvigorated franchise juggernaut, JIGSAW. From the mind of Colin Minihan, director of GRAVE ENCOUNTERSand IT STAINS THE SANDS RED.
REVIEWS
Screendependent.be: Regisseur Colin Minihan slaagt er wel in de kijker van de eerste seconde tot het allerlaatste beeld op het puntje van diens stoel te doen zitten. What Keeps You Alive is trouwens ook een 'menselijke' horrorfilm en dat maakt het allemaal nog beter. Hele review hier.
Variety.com: an entertaining and well-crafted effort from a resourceful indie team who've scored enough respectable base hits to date.NYTimes.com: Ms. Allen and Ms. Anderson deliver ferocious physical performances, explicating fear and dread in their movements with such precision that this movie would be coherent even without sound. Then it takes a left turn that accelerates the shocks, transforming a mood piece into an action-filled, cat-and-mouse stalker film.
LATimes.com: Allen and Anderson are outstanding in roles that require a lot of levels and moods, as the central relationship goes from loving to shaky to … well, something else.
Blu-ray.com: it's terrific. It's a wicked, somewhat surprising chiller from writer/director Colin Minihan, who impressed mightily with "It Stains the Sands Red". An impressive feature, and one that will likely delight those in the mood for something merciless and feral.
Efilmcritic.com: Julie gets put through the wringer and the audience is with her every step of the way, even during the bad decisions. Anderson attacks the physical parts of the role with an enjoyable efficiency, drops darkly funny observations in perfectly dry fashion, and lets out a sort of glee when she finally gets the upper hand.
Indiewire.com: A chilling look at the unraveling of a relationship, and what happens when inner demons come bubbling to the surface to turn betrayal into bloodshed, bolstered by superb performances and some truly shocking twists.
RogerEbert.com (1): The best of the four is Colin Minihan's What Keeps You Alive, a film with a truly clever turn in that it starts feeling like it's taking the audience in one direction and then takes a sharp right angle into something else entirely.
RogerEbert.com (2): As a thriller, "What Keeps You Alive" is effectively eerie and unnerving. There are tense moments hinting at something wrong with Jackie, but nothing as bad as her unforgivable act of violence and the psychological torture that ensues. Allen is so convincing and empathetic as Jules. Her bewilderment at the situation is pitiable, and her determination to survive her killer has us cheering for her next counterattack. The movie is on the side of its survivor, even if it puts her through hell first.
GlideMagazine.com: A psychologically harrowing, intense film that grabs on tight and never lets go. Alternately heartbreaking and terrifying, Minihan has emerged as a potential master of horror and suspense. Then tension builds to a relentless, gut wrenching level as more and more twisted secrets are revealed and the film rockets towards its conclusion.
Theverge.com: The film makes a strong argument for the value of artistry in horror. Stark colors and an active camera, chasing or leading the characters, give the whole film a sense of intensity and dynamism. Terrific leads and a dedication to memorable imagery keeps What Keeps You Alive fresh.
Theplaylist.net: Colin Minihan's absolutely gorgeous thriller is best seen with as little knowledge of its plot as possible, but it drops hints about what's coming in both dialogue and mood well before the ax falls - and the blood splatters. An incredibly beautiful and brutal horror film.
Culturecrypt.com: The "Black Rock" meets "Single White Female" vibe of "What Keeps You Alive" makes it one of the best in show for its category, as consistently appears to be the case when Colin Minihan's team is involved.
Bloody-Disgusting.com: What Keeps You Alive is a solid thriller that works more often than it doesn't thanks to the performances of Anderson and Allen. Those, combined with Minihan's skilled direction, make for one of the better survival horror films to come out recently. A tense and Darkly Humorous Tale of Betrayal.
Dreadcentral.com: Undeniably tense with electrifying performances from both Allen and Anderson. What Keeps You Alive is a captivating and unsettling reminder that true love may not always be a two-way street.
Filmjournal.com: Writer-director Colin Minihan's thriller is tightly plotted and delivers a couple of terrific shocks, shocks that are firmly rooted in character. Anderson and Allen deserve particular credit: Jackie and Jules are well-written characters—particularly in a genre where women tend to be final girls or mangled corpses-in-waiting—but the actresses' performances have a specificity that makes them memorable.
Pastemagazine.com: What Keeps You Alive's forthright quality feels refreshing, and Minihan's craft is a major plus, too. A mortal struggle between Jules and Jackie is heard, not seen, as Minihan aims his camera up at the ceiling on the cabin's ground floor. He tracks across the beams, capturing the bumps and thuds of protagonist and antagonist scrapping with each other. Gestures like that make What Keeps You Alive worth watching on their own merit. Nothing elevates genre better than sharp filmmaking.
FlickeringMyth.com: An excellent film. It's a far more cerebral and heartfelt thriller than most, and there are some nice, gory horror moments thrown in there for good measure.
DOWNLOADS
You need to be logged in to access this information.
.